This year seven residents received Civic Awards for their outstanding voluntary service to the community:
Judi Doornbos - for her extensive volunteer work over decades to a range of community groups, including the Paremata Residents' Association, Paremata Kindergarten, Paremata Boating Club, and her the Transmission Motorway Action Council.
John Hannan - for his decades of volunteer work as a support officer for the Returned Services Association caring for the needs of ex-servicemen and women, plus RSA projects such as the recent revamp of the Peace Memorial at Te Rauparaha Park.
Chrissy Leggott - for her tireless efforts in the community who need assistance with her Chrissy's All For Free donated goods charity.
Dr John McKoy - for his years of commitment to the work of the Pauatahanui Inlet Community Trust, Guardians of the Pauatahanui Inlet, Friends of Mana Island, Te Awarua-o Porirua  Whaitua Committee and the Friends of Taupo Swamp to help improve the health of our inlet and harbour and associated ecosystems.
Geoff Mowday - for his seven years of volunteer work as Chairman of the Whitby Residents' Association and success driving a wide range of local projects and activities in the community.
Kim Murray – for her years of volunteer work for Bellyful Porirua, Mary Potter Hospice, Wesley Fruit & Vege Co-op and WELLfed.
Tony Shaw – for more than a decade of volunteer work as a member of Guardians of Pauatahanui Inlet since 2005, and as Chairman since 2014, in support of the inlet's ecological, historical and cultural values.
2017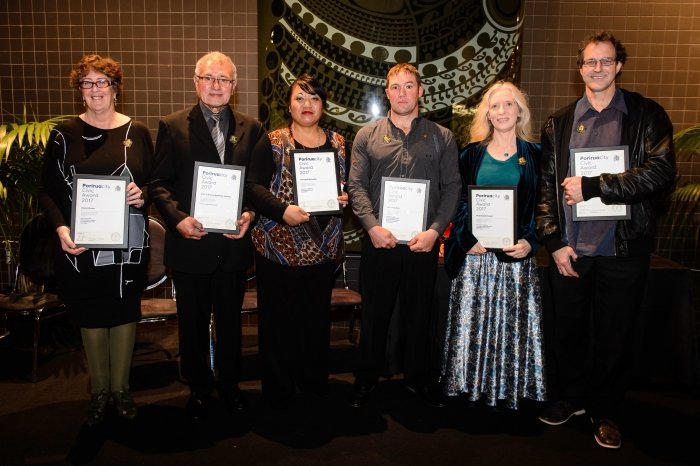 Above, from left - Cheryl Brown, John Te Arawai Ngahana-Hartley, Annabell Malaulau, Jeff Chapman, Dr Elizabeth Sneyd and Craig Utting.

Annabel Malaulau
Ngāhana Hartley
Cheryl Brown
Jeff Chapman
Craig Utting
Dr Elizabeth Sneyd

2016
Liz Harley 
Graham Kelly 
Esther McKendrick 
Le'autuli'ilagi Taotua M.F.Sauvao 
2015

Porirua50 Awards took the place of Civic Awards for 2015.
2014
Mary Casey
Ted Gallen
Pat McCalman
Judy McKoy
2013
Rihia Kenny
Professor John Wells
Dave Wilson
Christine Stanley
2012
Poppy Daymond
Ann Mills
Juliet Bellingham
June and Neil Penman
2011
Robert Brace
Tony Jackman
Moana Tuariki
Helen Chipper
2010
Sandra Andrews
Te Huri Arthur
2009
John Watson
Jay Marson
Margaret Armour
Tom Daniels

2008
Fuimaono Epirosa Setefono
Kahuwaero Katene
Adalina (Freda) Tohill
2007
Pip Piper
Russell Morrison
Tiketi Auega
2006
Mrs Elizabeth Lee-Lo-Smith
Dr Margaret Lockhart Bailey
Mrs Lynne Renouf
Lemoli Wally Ranfurly
2005
James Harland
Barbara Bundy
2004
Bob Cater
Minnie Kuiti
Cynthia Petersen
John Leighton
2003
Vivien Morton
Avalon Mikaere-Williams
John Garner
Narendra Sahay
2002
Dr Margaret Guthrie
Dennis Ormsby
Utanga Wineera
Rev Sylvia Jenkins
Fa'alelei Te'o
2001
Ivy Stuart
Dr Allan Nichols
Janet Margaret Berry
Jan Nixon
Selwyn Tattersall
Helen Smith
Alison Wong
Lindsay Forbes
Robert Batten
Tui McLauchlan
2000
Michael Graham
Taukiri Wahine Thomason
John Wilce
Veronica Allum
Ivan Hardgrave
1999
George McNeillage
Antony England
Janet Gibbons
Kath Cherrie
1998
Alfred Potaka
Margaret Joyce Henderson
Margaret Campbell Johnson
1997
Beryl Brown
Eric Fowke
Thelma Margaret Stevens
Murray Woodley
1996
Margaret Hughes
Angus Langbein
Helen Mary Painter
1995
Lorraine Jean Williams
Sarah Renata Smith
Alfred Edward Mexted
Kathleen Mabel Mexted
1994
Eileen Adams
John (Jack) Collins
Don Smith
Nui Sila Taupe
1993
Ken Arthur
Gordon Lee
Zelda Clarke
Jean Stratford
Jack Underhill