Last few weeks to make your mark on Porirua's District Plan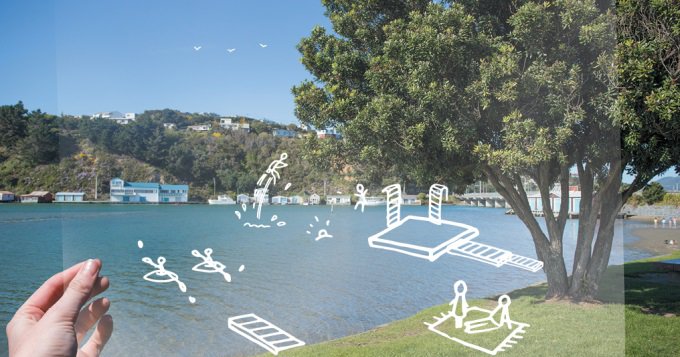 We've had lots of interest in Porirua's District Plan review and you can still make your mark for another few weeks.

The District Plan is the blueprint for Porirua's future land use and will guide how the city develops over the next 10 to 30 years. We're seeking your feedback until 24 November.
"Our District Planning team has been out and about attending public events and encouraging people to share their vision for how Porirua should develop while protecting the landscapes and community character we all love," says Porirua Mayor Mike Tana.
"We've talked to residents and businesses about how we plan for the future of our city – like how we manage rising sea levels, life after Transmission Gully, and how to grow Porirua in a way that still protects the environment. You are key to ensuring we have the best District Plan for Porirua," says Mayor Tana.
Share your thoughts by filling in one of our online surveys (and go in the draw to win a $300 grocery voucher) or talk to the team at one of these public events:
·         Tuesday, 14 November, 7.30pm – Ascot Park, Rangikura School Library, 95 Conclusion St
·         Tuesday, 14 November, 7.30pm – Pukerua Bay, St Marks Chapel, Rawhiti Rd (opposite Pukerua Bay School)
·         Wednesday, 15 November,  7pm – Plimmerton, Plimmerton Hall supper room
·         Saturday,  25 November, 11am - 3pm – Plimmerton School Gala, School Road
 "There's a lot happening in our city at the moment and we've been asking the community to give us feedback on two key plans- the District Plan and the Long-term Plan," says Environment & City Planning Manager Nic Etheridge.
"The District Plan guides how we use our land in Porirua by balancing city growth and caring for the environment.  The Long-term Plan (LTP) includes the services our community wants, what they cost and how they will be funded.  We've started some conversations about the LTP but will be consulting formally on it next year."
Ngāti Toa Rangatira is a key partner in the development of the draft District Plan, which is focused around six key themes: How we live and grow, How we play, How we move, How we look after our environment, How we reduce natural hazard impacts and How we do business.
The feedback received through this round of District Plan consultation will build on feedback already received through earlier review work and will feed into the development of the Draft District Plan that will go out for further public consultation in October 2018.
8 Nov 2017