Porirua's second JOBfest a hit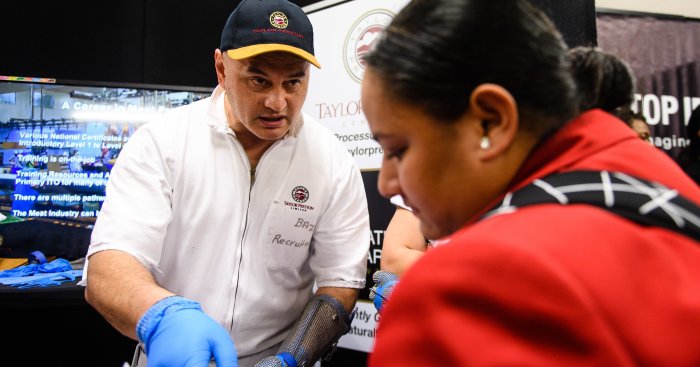 Above: Housing New Zealand's Diane Walmsley meets with Tawa College students, Olivia Pettigrew and Sahan Kithulagoda.

Porirua's JOBfest 2017 was a great success, connecting our rangatahi to employers and businesses in the region.
Around 700 young people keen to enter the workforce met employers at Pātaka last month to talk about their industry, business or career pathways and how they can apply for jobs.
JOBfest was organised to support the Youth2Work movement, which has a goal of ensuring our young people are all 'earning or learning'. The movement is a joint initiative of Partners Porirua, Porirua City Council, Ngāti Toa Rangatira, businesses, schools and the community.
Councillor Dale Williams has been working with Partners Porirua and has previous experience helping youth into employment. 
"Transitional support and work experience helps young people to be more reliable, disciplined and productive, and add greater value to our local industries. Team work and ownership from the local community, including schools and employers, is essential to make this happen." 
Several regional and local employers, including Porirua City Council, Downer, Mitre 10, recruitment firm AWF, Westpac and Capital & Coast District Health Board, took part.
"Last year's JOBfest resulted in more than 75 full- and part-time positions being filled, which is fantastic. This year we're hoping it will be even bigger," says Partners Porirua Executive Director, Michelle Robinson.
While the number of jobs to come out of this year's JOBfest isn't yet known, 32 businesses put real jobs in front of motivated young people. 
Mayor Mike Tana thanked businesses and organisations on board with Youth2Work and encouraged others to join the movement.
"There are lots of ways you can help gear our kids up for work, promote your industry and invest in your future workforce."
To find out more, call Workforce Development Manager, Jacqui Edwards by phoning 237 1097 or check out the Youth2Work website.
28 Aug 2017