A group of community volunteers have spent many years tending the roses at the Pāuatahanui Burial Ground, along with our Parks team, who maintain the cemetery.  We have documented the history of the cemetery and the roses, and published a booklet which you can download and print.  
You are welcome to visit the cemetery any time, with October–December being the best time of the year when all the roses are in flower.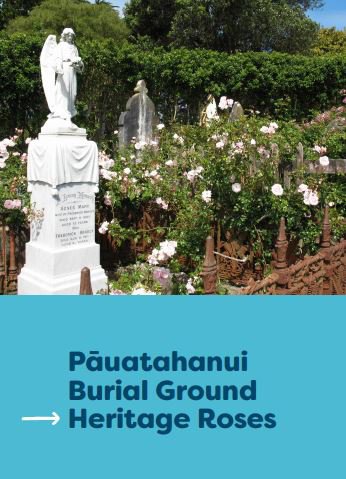 [Booklet, pdf, 6mb]
There are 200 individuals named on the headstones. Many early settlers are buried here, including Bradey, Flighty, Jones, Judge, Gray and Harris family members. Find out more about the Pāuatahanui Burial Ground Heritage Roses
Heritage roses receive national recognition
Heritage Roses New Zealand Inc. has recognised the Pāuatahanui Burial Ground's roses as a nationally significant planting of historic roses. On Friday 5 December 2014, Project co-ordinator Rosemary Patterson, who began the restoration with four other local women 23 years ago, along with Porirua Mayor Nick Leggett, were on hand to receive an award and citation from Heritage Roses New Zealand President Sally Allison. 
The burial ground was nominated for the award by Judith Soja, a member of Heritage Roses New Zealand, to recognise the rose collection, acknowledge the vision and work of Rosemary and her volunteers, as well as the Council's on-going commitment and contribution to the preservation of the burial ground and rose collection.
The following people contributed to this project: 
Ralph Bolton, Original Photographer 
Ed Soja, 2017 Photographer 
Rosemary Patterson, Rose Project Co-ordinator, Member PBGMC 
Dale Hartle, Web Content Co-ordinator, Porirua City Council 
Sharon Evans, Member, Pāuatahanui Burial Ground Management Committee