What is the creative communities scheme?
Creative Communities Scheme supports and encourages local arts activities. It is a partnership between Porirua City Council and Creative New Zealand. Each year Creative New Zealand provides funding to city and district councils to distribute in their area. Any individual, group or organisation can apply.
There are two rounds per year.
The closing dates for 2023 are:
---
Wednesday 12th April 2023
For projects between 25 May 2023 – 25 May 2024
---
Wednesday 11th October 2023
For projects between 16 November 2023 – 16 November 2024
Your project must take place in Porirua and have an arts focus.
It also needs to meet one or more of the three funding criteria:
Participation - create opportunities for local communities to engage with, and participate in local arts activities
Diversity – support the diverse artistic cultural traditions of local communities
Young people – Enable young people (under 18 years) to engage with, and participate in the arts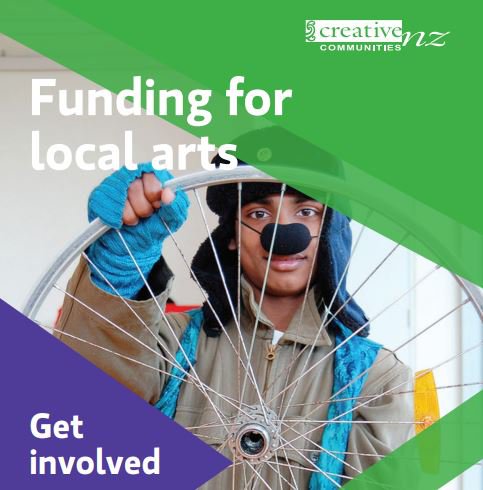 Creative Communities Brochure
Funding for local arts.
For more information on what can and cannot be funded please download the Creative Communities brochure.
Individuals and groups can apply. Individuals must be New Zealand citizens or permanent residents.
To apply for the Creative Communities scheme please read the Creative Communities application guide.
Then download the application form below or pick up a copy from Pātaka Art + Museum
Successful applicants for Round 1, 2022-23
Pauahatanui School, Legacy Project Mural, $3,800.00
Porirua little Theatre, Junior Show, $6,635.00
Gatama a Tefolaha Trust, Revitalising Nanumea language and culture in Porirua, $3,450.00
Porirua Community Arts, Porirua Arts Trail, 2023 $1,269.70
What Dance can do NZ, WDCD Dance programme, $6,000.00
Star Jam, Porirua Programme 2023, $4,000.00
---
Successful applicants for Round 2, 2021-22
Black Lantern, Search for Hawaiki, $5,500.00
CanInspire Charitable Trust, CanBead Workshops, $895.00
Kapi-Mana Music Festival Charitable Trust, Kapi-Mana Music Festival Recitals, $1,447.00
Ngā Uri o Whiti Te Rā Mai Le Moana Trust, Moana Creatives Dance Workshops, $7,670.00
Anna Hayes, Mahi raranga participation and demonstration workshop, $700.00
Hine Piwari, Te Toi Ahurewa o Mahi Raranga, $9,020.00
Ahu Charitable Trust ki Pukerua Bay, Matariki Celebration and Community Art Stars 2022, $5,012.00
Tapu Elia, Creek Mural Project, $15,000.00
TAHI NZ Festival of Solo Performance, Whānau, $2,000.00
Rakuto Kurano, Violin Quartet Tour – Old Music & New, New Zealand Music, $2,446.00
Hosanna Porirua Baptist Church, Hosanna Creative Communities Workshops and Exhibitions, $657.00
Porirua Community Arts Incorporated, Writers' Walk Sculpture #5 - Elizabeth Knox, $15,000.00
Mary Maringikura Campbell, Let it rain - Kia Aākāri pu ia mai ki te Marama, $4,937.00
Virtuoso Strings Charitable Trust, Virtuoso Strings Orchestra rehearsals at Pātaka, $10,240.00
If you would like support with your application, or have any questions, contact the Creative Communities Scheme Administrator:
Sharlene Vai [email protected]