There is already an issue for motorists trying to turn right out of the businesses along Kenepuru Drive.
When Transmission Gully opens motorists will experience even more difficulty safely turning right in and out of businesses during busy periods, and it will become harder for pedestrians and cyclists wanting to cross Kenepuru Drive to visit businesses or access Kenepuru Station or the Hospital via Ambulance Drive.
With this in mind, we're constructing a roundabout at the Ambulance Drive/Kenepuru Drive intersection.
As Porirua City continues to grow, we're committed to ensuring safe access to all businesses and road users using the Kenepuru Corridor for now and in the future.
Construction update 18 October 2021

Work completed so far
The Ambulance Drive roundabout is now fully constructed and the temporary pavement widening has been removed.
Kerb and channel and excavation work for the new footpath areas has been completed. We've also finished the streetlight ducting, cabling and associated connections.
We know there have been some issues around traffic congestion lately. To reduce these impacts some activities are now being completed at night.
Work currently underway
Work currently underway includes:
Completion of the western side (tactiles, footpaths and topsoiling)
Installing two raised pedestrian crossing platforms and associated drains (please note this will involve weekend work to minimise disruption to businesses)
Completion
All going well with the weather and Covid-19 alert levels we plan to complete all work on Ambulance Drive roundabout in November.
We apologise for any inconvenience during this work and ask you to please drive carefully through the area.
For any queries related to the work, call Downer on 04 562 6566 or our contact centre on (04) 237 5089.
---
Construction update 9 September 2021

Construction work on Ambulance Drive started again last week, after a brief pause during the Covid-19 Alert Level 4 lockdown. Our contractors (Downer) are on site operating under the government's protocols for the relevant alert levels.
Work completed so far includes:
Widening the temporary pavement which included removal of existing kerb and channel to push all northbound traffic around the new roundabout location
Excavation of the existing pavement to prepare for the installation of the new roundabout
Work in the next fortnight
Work planned for the next couple of weeks (subject to weather and Covid 19 alert level changes) includes:
Installing the new roundabout (including concrete works)
Realignment of the kerb and channel on the eastern side while the concrete roundabout is curing; the temporary pavement will remain in place while this happens
Completion
The programme is currently being revised to take into account the impact of the Covid-19 lockdown and associated supply chain procurement lead times and delays. We will keep you posted on this page.
---
Benefits of the roundabout
The roundabout at Ambulance Drive, along with other changes being made along Kenepuru Drive, will help break up traffic flows. This will enable us to improve the crossing points and make it easier for vehicles exiting businesses along Kenepuru Drive between the new Transmission Gully link road and Ambulance Drive.
In a nutshell this means:
Vehicles coming out of businesses on the Porirua Stream side of Kenepuru Drive, who wish to travel north, will have the option to turn left and undertake a u-turn at the Ambulance Drive roundabout before travelling north. Please note this roundabout will not be suitable for large tracks, that wish to travel north. Those vehicles will need to use the Kenepuru Drive / Raiha St roundabout, as the Ambulance Drive roundabout is not being designed to cater for them due to available space and safety considerations.
The reduced speed created by the roundabout means we can upgrade the pedestrian and cycling crossing points which will improve the connection to and from the Kenepuru Railway station. This will include installing a zebra crossing and/or a raised pedestrian safety platform.
Revised design June 2021
Below is the revised design for the roundabout. This has been updated from the first concept developed in December 2020. The revised design takes into account feedback from local businesses, stakeholder groups and an independent road safety audit.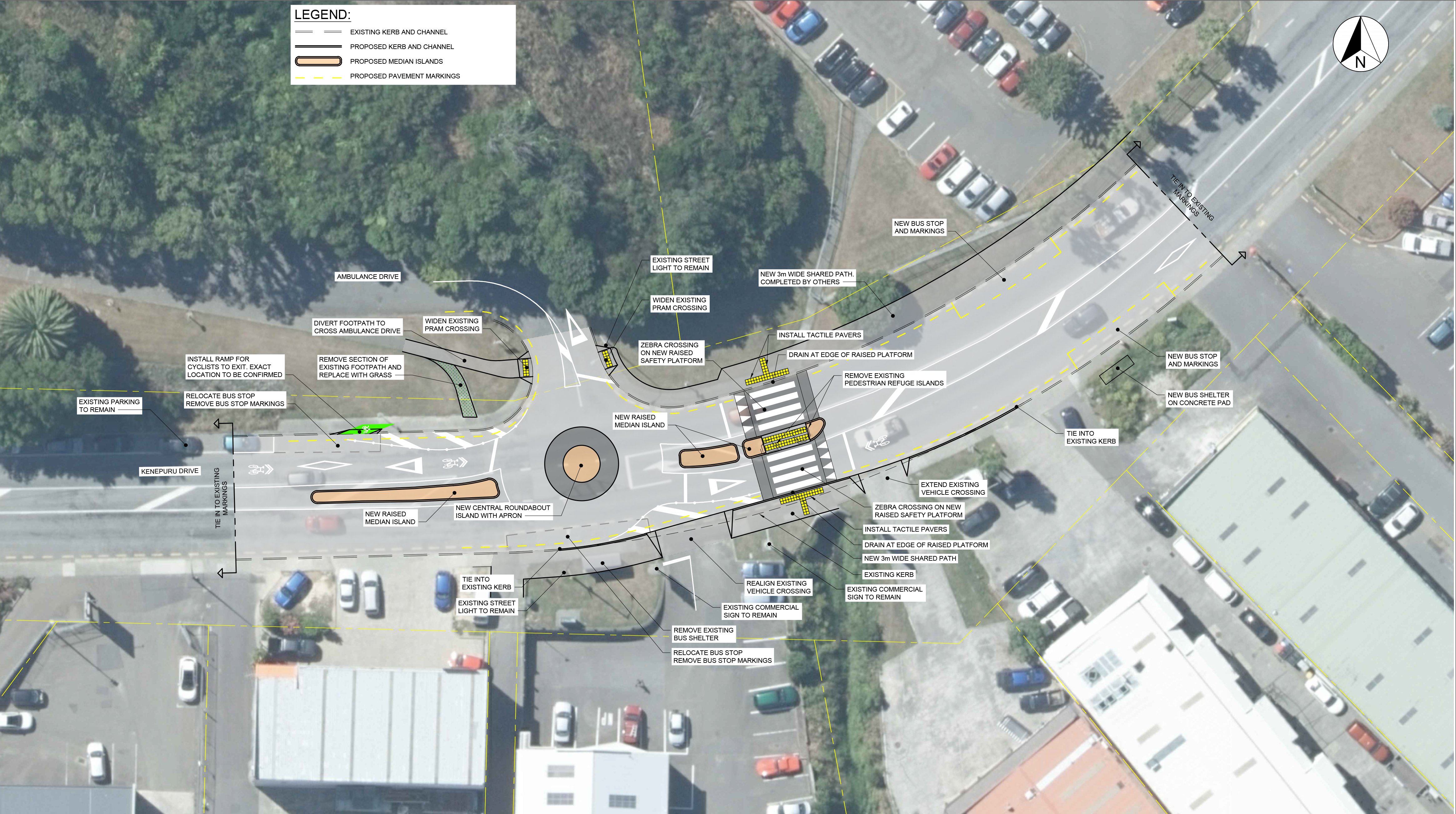 If you're interested in how the concept has evolved, you can view the first concept from 2020 here
Once the roundabout has been installed, we will continue monitoring along Kenepuru Drive to look at speeds, volumes and delays. We will share these results and any further improvements planned as a result of the monitoring with stakeholders.
March 2021: Design work commenced
June 2021: Revised design completed
August 2021: Construction started (completion to align with opening of Transmission Gully)
The programme for Ambulance Drive, including completion dates, is currently being revised to take into account the impact of the Covid-19 lockdown and associated supply chain procurement lead times and delays. The roundabout is planned to be operational when Transmission Gully opens in 2021.
For any queries related to the work, please contact Downer on 04 562 6566. If you have any other questions, you can call our contact centre on (04) 237 5089 or drop us a line on kenepurucorridor@poriruacity.govt.nz.