Amazing evening of food, drink and art at Pātaka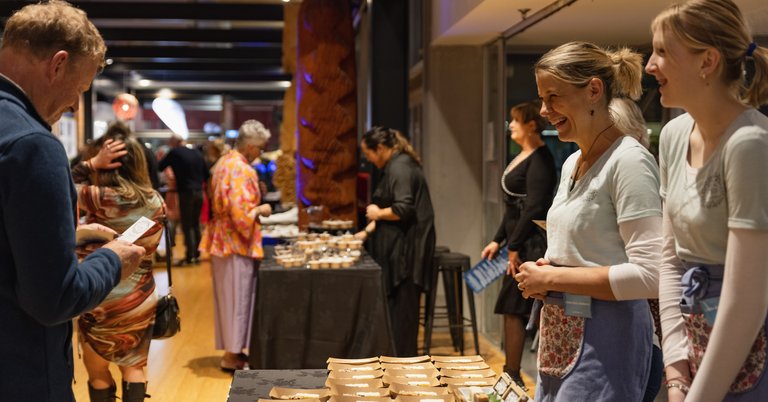 Delicious kai, great drink options, good vibes - Porirua's Visa Wellington on a Plate experience ticked all the boxes once more.
The two sessions at Pātaka on Thursday night were sold out, with 100 attendees at each.
Those who headed along were treated to a number of perfect food and drink pairings, all in the midst of the gallery's stunning artwork and cultural taonga, which the businesses were encouraged to take inspiration from.
Local legends Get Fixed Bicycle Café, Topor Bistro, t bay café, Café Kaizen, Little Keto Bakery and Indokiwi Dhaba presented their culinary creations, with chefs on hand to talk to attendees, all accompanied by drinks from Abandoned Brewery, Ohau Wines, The Beer Engine, Toporsown and Little City Kombucha.
Anna Doyle from t bay café said it was an amazing occasion.
"Everyone had a great time, this is something that gives great exposure to local businesses," she said.
"We really like the opportunity to talk about what we've created."
For the night, t bay café presented New Zealand mussels grilled in shell, with watercress pesto, panko crumb and kumara crisp. Anna said it was inspired by the Kura Pounamu exhibition on at the gallery.
Meeting other business owners from Porirua is a plus, she said, and assistance was on hand when it was needed.
"We'd forgotten tin foil and Café Kaizen helped us out - the event had that sort of vibe to it, and many of us are friends, supporting one another."
Porirua Mayor Anita Baker said Porirua's Visa Wellington on a Plate experience, in its second year, is a wonderful chance to bring together what the city has to offer from a culinary perspective.
"It's firmly on the calendar now for Porirua and great to see us participating in the largest experience of this type in the southern hemisphere. Bringing all those fabulous and creative people together in one place is so fantastic," she said.
"There was a great turnout and I look forward to seeing how we keep growing it."
12 May 2023