Aniva Arts Resident to create multimedia body of work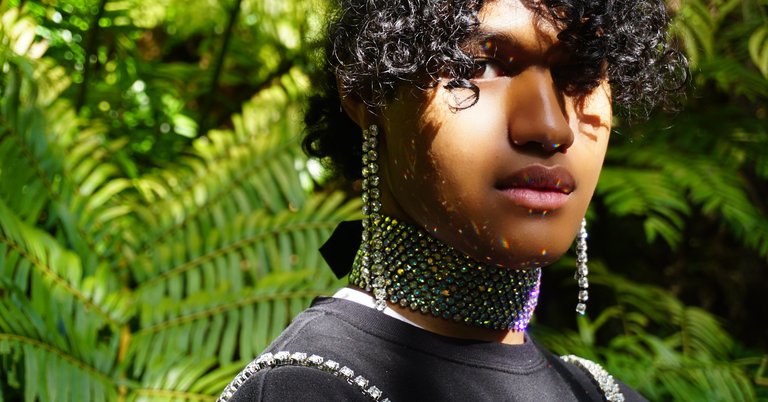 Tāmaki Makaurau/Auckland artist Manuha'apai Vaeatangitau has been selected as the Aniva Arts Resident at Pātaka Art+Museum for 2023, in partnership with Creative New Zealand Toi Aotearoa.
The progamme offers a paid, three-month residency based at Pātaka in Porirua for a Pacific artist or practitioner who identifies as LGBTQIA+/MVPFAFF.
Manuha'apai Vaeatangitau (they/she), or Manu Vaea for short, is a practicing interdisciplinary artist.
Her work often responds to themes of cultural transformation, seeking to assert queer Pacific identities into social and cultural visibility.
"We had an exceptional pool of applicants this year, from all over Aotearoa," says Pātaka Director Ana Sciascia.
"It's a wonderful opportunity for Pātaka to host a great artist such as Manu and support her in her art practice to create an exciting exhibition."
Vaea's practice ranges across mediums of illustration, poetry, performance and music. She was the 2019 recipient of the Creative NZ and Massey University Arts and Creativity category of the Prime Minister's Pacific Youth Award and has extended her art to acting, playing the role of Pua in the Prime TV/Neon show Not Even.
Vaea is an editorial regular on many high-end television and film productions, and a staple figure for local LGBTQIA+ conversations, spanning ballroom, arts, and activism.
During her residency at Pātaka, Vaea will create a multimedia exhibition consisting of a soundscape, moving images and textile paintings that expands on themes of indigenous queerness and identity, erotic and mythological beauty, called Koe Tau'atāina o e Leitī - The Freedom/Emancipation of the Leitī.
Manu says the residency will allow her the freedom to make what she wants, while being supported within a framework designed for artists like her.
"It means I get to push the boundaries of my practice and explore themes I may not necessarily be able to safely in other spaces.
"Even being afforded the time to just hone-in on a single idea and to flesh it out and turn it into a world is such a privilege and is so exciting and daunting at the same time."
Ali Foa'i, Creative New Zealand's Principal Advisor, Pacific Arts, is thrilled with this announcement.
"Queer Pasifika creatives are inherently community-minded – so we see this opportunity as influential not only on the successful applicant's individual career, but on their community as well," he says.
"We're over the moon to be able to offer this opportunity to Manu. We were really impressed by her radical honesty and her multimedia exhibition concept. I'm excited to see how her time at Pātaka will impact the Porirua MVPFAFF+/LGBTQIA+ community, and her own trajectory as a multi-disciplinary artist."
Manu's exhibition will be on display at Pātaka in late 2023.
What does MVPFAFF mean?
M for Mahu in Tahiti and Hawai'i
V for Vaka sa lewa lewa in Fiji
P for Palopa in Papua New Guinea
F for Fa'afafine in Samoa and American Samoa
A for Akava'ine in the Cook Islands
The second F for Fakaleiti or leiti in the Kingdom of Tonga
The third F for Fakafefine in Niue
2 May 2023