Aotea Lagoon project nears finish line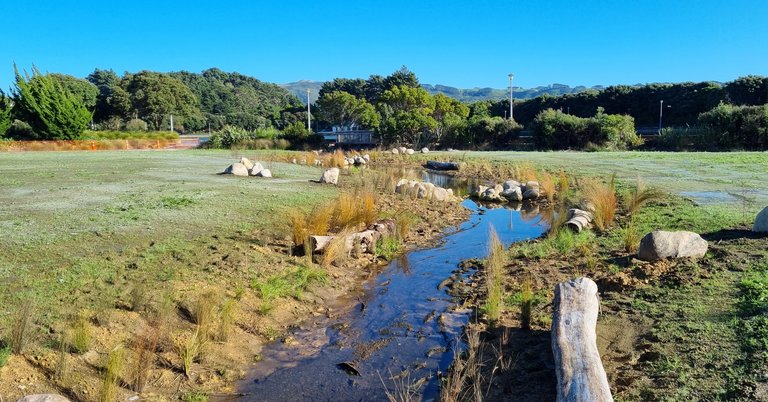 The end is in sight for the renewal of the former duck pond at Porirua's Aotea Lagoon.
Porirua City Council regularly received complaints about the sight and smell of the duck pond for some years, so the decision was made to fill it in, after consent was received from Greater Wellington Regional Council in 2020. Work began in early 2022 and while there have been delays, the completion of the project is at hand as the final landscaping touches are put in.
Over 500m2 of sludge from the former pond was either removed from site or treated in geobags last winter. Quarry rock and clay soil from behind Porirua Park was transported in as fill.
While the public toilets and pathways around the pond were closed, and the miniature railway disrupted for a time, Parks & City Services Manager Julian Emeny says the final result is something the city will be proud of.
"This has not been an easy project for a number of reasons, much of it due to the low-lying ground and average weather conditions contractors have had to deal with, on and off, for more than 12 months," he says.
"It was necessary to take a longer-than-expected break over our last very wet summer as the material beneath the surface of the filled-in pond was still too soft to work.
"But we're now into the landscaping, and this area is going to add to one of Porirua's favourite places, with the splash pad, rose garden and playground nearby.
"We appreciate the public's interest and patience as this project is being completed."
A bike pump track is also proposed for around the outside of the new site.
In March last year, nearly 500 fish were removed from the pond and placed into nearby streams, including 25 longfin eels, a declining species. With heron and shags recently spotted in the man-made stream, there is scope for more planting to provide cover and improve the fish habitat.
6 Jun 2023