Busy time for infrastructure projects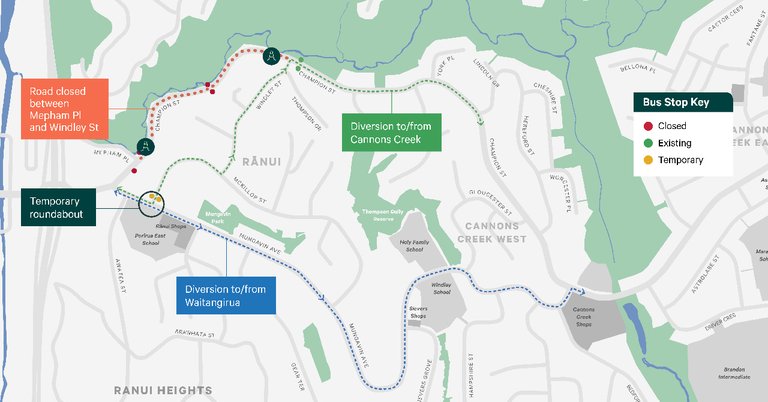 Right now there are a number of important infrastructure projects underway, or about to begin, that will mean some disruption for motorists moving around our city. You will have seen the recent closure of Titahi Bay Rd between Kenepuru Dr and Hagley St to remove ageing pines, but here are others to be aware of:
Champion St – pipe upgrades
You will see a temporary roundabout has been installed at the top end of McKillop St. This is because from 10 July until February next year, the section of Champion St between Windley St and Mepham Pl will be entirely closed to traffic. The closure is needed while contractors upgrade the pipe network that services eastern Porirua. As new houses are built and the population grows, there is increasing pressure on infrastructure. This work is essential for city growth and to protect Te Awarua-o-Porirua Harbour and our waterways.
Mepham Pl – road closure
The western end of Mepham Pl will be closed shortly for up to 12 months as an area for materials and equipment to install the new pipe network on Champion St. Pedestrian access to Aotea and Porirua train station will be maintained throughout this time.
Omapere St – new gas main
At some point from July through to the end of October, there will be a combination of stop/go, a shoulder closed, no parking and lane diversions. Contractor Powerco need to have traffic management in place as they complete the work and carry out testing on the new network there.
Prosser St – watermain renewal
Wellington Water is renewing an ageing drinking water pipe on Prosser St in a project that is underway, and likely to take 12 months. There will be road restrictions in the area during this time but to minimise the impact the project will be done in stages.
4 Jul 2023