Cannons Creek students in spotlight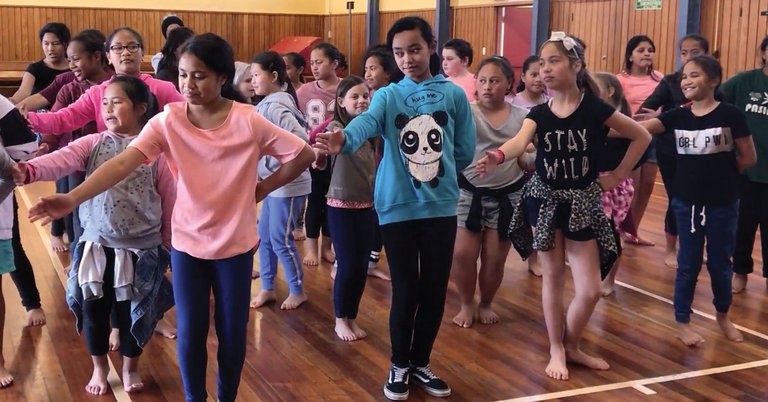 Next month's Measina Festival will showcase live theatre, music and dance from some of New Zealand's most talented Pasifika artists.
Held at Pātaka Art + Museum from 7 to 9 December, the annual festival of contemporary Pacific dance and theatre has a stunning line up of performances, with a real local angle.

An exciting part of this year's festival is the debut performance based on the much-loved children's story Watercress Tuna and the Children of Champion Street, written by local author Patricia Grace.

The iconic tale tells of a tuna with a magic throat that leaps out of his stream and visits children in Champion Street, Porirua. He gives each an article of clothing for dancing, and a musical instrument. As a result the children, from different ethnicities, come together and kanikani or dance all day and all night.

Le Moana's Tupe Lualua has devised a performance to bring the story to life with around 70 Cannons Creek School students taking to the stage.

Le Moana dancers and choreographers Tehau Winitana, Oriwa Mitchell and Sophia Uele have worked with students to bring the story to life, and Jim Richards and Bridgette Murphy from the Rangiwahia Environmental Arts Centre created the large-scale tuna puppet. Porirua singing sensations Le ART will narrate the story through song.

Author Patricia Grace says she finds the prospect of the theatre and dance enactment of one of her stories by the children of Porirua, an exciting one.

"What a wonderful event this will be for Porirua children and all of Porirua," she says.

Porirua City Deputy Mayor Izzy Ford agrees. "This is an awesome opportunity for Porirua, Pātaka and the greater Wellington region to support locally nurtured talent!

"With Tupe Lualua working her magic and directing Watercress Tuna, it's an amazing collaboration between local dancers, singers and school kids that allows Porirua to showcase its diversity."

There are only two performances of Watercress Tuna. Book now at www.measinafestival.org

19 Nov 2017