City centre going from strength to strength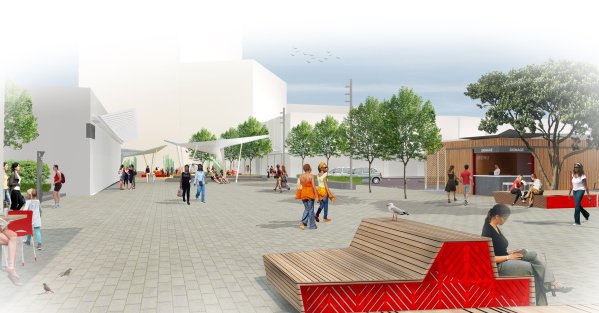 The next stage of our city centre revitalisation is about to get underway with two key projects – more enhancements to the heart of the city, and the upgrading of the peace memorial.
The projects are part of Porirua City's ongoing programme of investing in public spaces to create a welcoming environment for residents, businesses and visitors, Mayor Mike Tana says.
"We are working to create a vibrant city centre that's the distinctive heart of Porirua.
"This means creating spaces for more events and activities, a better environment for people who live and work here, and improving connections to and from the city centre and neighbouring communities," Mayor Tana says.
"The first stage of our city centre revitalisation has given Cobham Court a real boost, and the next stage will build on this, adding more activity and vibrancy and attracting more businesses and people."
Work on the next stage will start in the new year and will see improvements to Hartham Street North, Cobham Court and Ferry Place. It includes a new children's play area, enhanced open spaces and development of a public space through Ferry Place and 8 Cobham Court.

It will feature new signage to improve wayfinding, and create a safer environment with effective lighting and CCTV improvements.

"By investing in these public spaces we are showing our commitment to the city's growth, which will encourage more private sector investment," Mayor Tana says.

The second key project will begin in early January – enhancing Porirua's peace memorial to reflect the significant role it plays in our city.

The memorial, in Te Rauparaha Park, is the centre of war and peace commemorations in Porirua and the site of ANZAC Day services. It's being upgraded by Porirua City in partnership with the RSA and work will be complete in time for ANZAC Day 2018.

Mayor Tana says the new design will give the memorial the prominence it deserves.

"This is our most important commemorative space and we want it to reflect that," he says.

"More and more people are attending ANZAC Day ceremonies, with our young people taking a real interest in keeping the ANZAC spirit live. We need a memorial with enough room for everyone to gather together, remember and reflect."

Features will include a memorial wall with plaques displaying the names of local people who died as a result of war, a larger seating area, and statues on either side of the memorial.

Funds raised by the RSA will cover the costs of the plaques and statues.

The design was developed by the architects involved in the city centre revitalisation in discussion with the RSA's Porirua War Memorial Project team and the Council, and will reflect design elements used in the city centre upgrade.

Porirua War Memorial Project team member John Hannan, from the CMT National Service Association, says the memorial wall will be a special way to properly honour the fallen.
It had been a pleasure to work with the Council to make it happen, he says.
The new design also includes a widened footpath from Hagley Street and paths linking the area to Te Rauparaha Arena and to Norrie Street.
"These new paths will not only make access to the memorial easier, but provide a much needed path from Hagley Street to the Arena," Mayor Tana says.

"This upgrade is just another part of our ongoing work on the heart of this beautiful city."

14 Dec 2017