Commitment to reducing waste on show at Love Local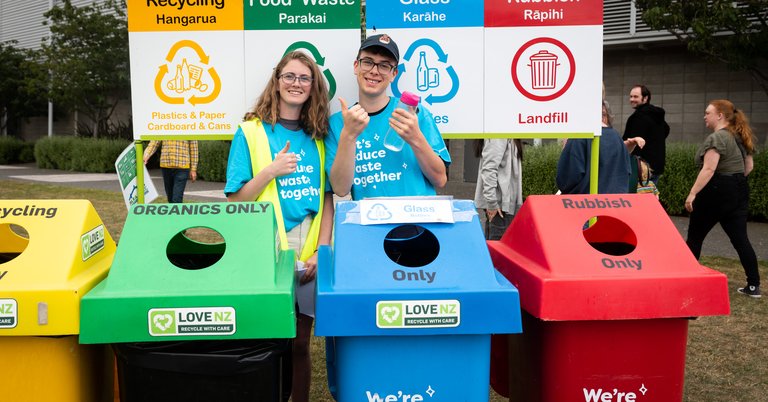 Love Local is a brilliant mix of local businesses, organisations and food trucks selling all sorts of yummy treats.  However, all of this generates waste. Along with the Harbour, Waste and Climate stand, we also engaged Nonstop Solutions to help us deliver on our commitment to reducing waste to landfill. Nonstop are one example of a local business who provide support services and solutions for event organisers on waste minimisation.​

Liz Nichols, Waste Minimisation Community Coordinator said it was fantastic to have Ngāti Toa Sea Scouts standing by every bin station.

"They received training in identifying what could be recycled or composted so that they could help visitors to put the right thing in the right bin" she says.  "Some of the Scouts got their gloves on and got stuck in with sorting the waste."

All this helped us to minimise how much waste was going to landfill and the volunteer hours helped the Scouts work toward their Better World badge. A win-win!
A big thanks to Sarah Barker in the Events Team for liaising with Nonstop.  Sarah made sure they had everything they needed at the Arena and negotiated those tricky logistical challenges! Hazel Parata and the City Services team delivered and collected over 20 wheelie bins, hoods and signs. Always with a smile.  

The hard work of everyone involved means we diverted a massive 64.7% from landfill.  48% was sent for composting and 16% was sent for recycling. The reporting also shows us where we can work with vendors next year to further improve this result.
This result shows you what you can achieve with great planning.  We will soon be launching our Event Waste Webpage on both the internet and intranet.  This will include an Event Waste Plan template and helpful guides to assist event organisers in reducing waste and litter from their events. It will be a requirement for most large events (of over 1000 people) to complete a plan. However, we would encourage all event organisers of any size to give it a go.  Small steps can make a big difference. 
1 Sep 2022