Council and Ngāti Toa Rangatira reaffirm partnership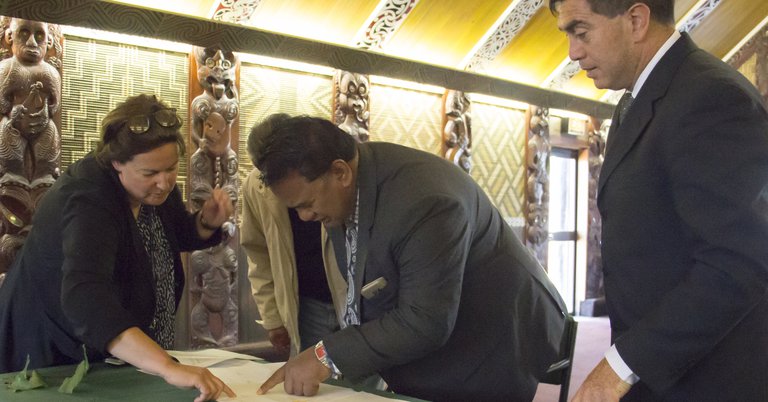 Above: Ngāti Toa kaumatua Taku Parai signs the Partnership Agreement with Mayor Mike Tana (right) and Council chief Executive Wendy Walker (left) looking on.
A commitment by Porirua City Council and Ngāti Toa Rangatira to working together for the iwi and the wider Porirua community was reaffirmed at Takapūwāhia Marae on Monday with the signing of a Partnership Agreement.
The agreement outlines the partnership between Te Rūnanga O Toa Rangatira and the Council and it recognises the longstanding relationship between the two parties.
Porirua Mayor Mike Tana said reaffirming the partnership highlights the joint responsibility and opportunity for leadership.
"It's about working together for the wellbeing of Porirua and its people and will help us push for a strong future together."
Mayor Tana says the Local Government Act 2002 requires Councils to take into account the Treaty of Waitangi and how Māori contribute to the decision-making process.
"This agreement is something we can stand on ¬- it gives us a foundation to make decisions that are good for the people of our city and for tangata whenua. Together we will continue to grow the city and bring strong leadership to Porirua.
"The history and mana of this area is something that Ngāti Toa has never taken for granted and we have the opportunity to protect and preserve it the way Ngāti Toa has done.
"To do that properly our relationship with Ngāti Toa needs to grow and evolve in an enduring way. We have many people who come into this rohe to make Porirua their home and it's so important that they understand the history. People will come and go but Ngati Toa will be here forever. That's why it's so important we continue our positive relationship."
Ngāti Toa kaumatua Taku Parai said the city has an exciting future ahead.
"This agreement shines a light on all aspects of work in terms of the partnership between Ngati Toa and the Porirua City Council. For us it's an enduring partnership and one we believe should be renewed.
"It's a catalyst for future development, whether it's physical works or relationships with people - from the Council staff right through to the Mayor.
"Our relationship gives the city in-depth knowledge about our land and the local area. If the community, and particularly the Council, can capture that understanding it strengthens the relationship for all of us."
22 Nov 2017