Cycling and walking around Papakōwhai to get easier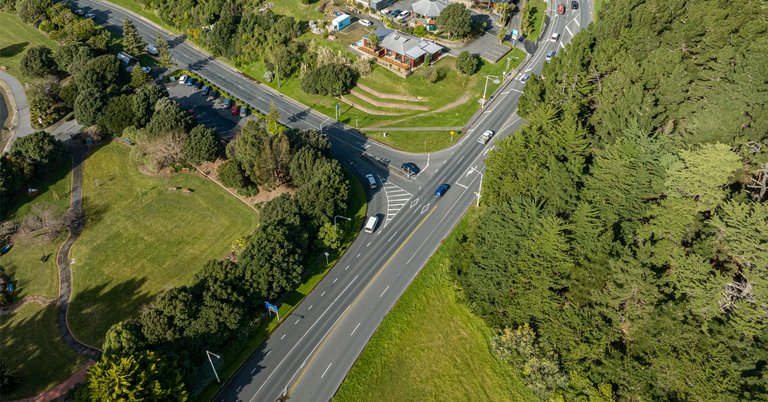 Moving along a vital piece of Porirua's roading network will become safer and less difficult to travel as projects to build a shared path along Papakōwhai Rd, and an upgrade of the Whitford Brown intersection, get under way in November.
Announced in December last year, the shared path is funded from the Government's Transport Choices Programme, led by Waka Kotahi NZ Transport Agency.
Porirua Mayor Anita Baker says Papakōwhai Road's shared path is something Council has wanted to construct for a long time, and encourages the community to attend a drop-in session to find out more at the Papakōwhai School staff room, Tuesday 19 September between 6pm and 8pm, 17 Spey Place, Papakōwhai.
"It's really important to our city that we reduce emissions and focus on moving towards a more climate-resilient way of life. That means making it as easy as possible for cyclists and pedestrians to get around," she says.
"We don't always have the funding to do these things when we want, and the 100 per cent funding offer from Transport Choices was the perfect opportunity to get some real benefit for the community quickly."
Waka Kotahi is working with Porirua City Council to make it safer, easier, and more attractive to walk, ride bikes or scooters and take public transport. Projects like the Papakōwhai Road shared path provide more freedom to move around without needing to rely on cars.
The Transport Choices programme aims to demonstrate what's possible for communities across New Zealand, by quickly providing people with more transport options, and making it easier to travel in ways that are good for everyone and the environment.
Darrell Statham, Porirua's Manager, Transportation, says Papakōwhai Road is an important strategic link in the Porirua roading network, and the path will be a valuable walking and cycling connection linking Aotea College, Aotea Lagoon, Paremata School and the Paremata Railway Station. It will also form part of the national Te Araroa Trail.
"There will now be a dedicated 3.5m-wide shared path connecting the schools (Aotea College, Paremata School and, to some extent, Papakōwhai School) - it will be wide enough for people to ride side by side (when appropriate), walk along with plenty of room for prams and those getting around by mobility scooters and wheelchairs. Wetland planting and improved lighting along the route will add to the experience," he says.
He says it's also expected to be popular with commuter and recreational cyclists who already use this route - taking them off the road and onto the shared path will make it safer for all.
"Talking with local schools in the area, we know that currently it can be really difficult for students to cross Whitford Brown Avenue to Papakōwhai Road and it is tricky to get across to Aotea Lagoon. That's why we're also upgrading the Whitford Brown Avenue intersection," Darrell says.
The intersection work will include signalised pedestrian crossings, traffic signals, an additional left turning lane out of Papakōwhai Road, better lighting and a new raised pedestrian crossing at the southern entrance to Aotea Lagoon.
Construction work on both projects is planned for completion in winter 2024.
11 Sep 2023