Porirua reviewing Council representation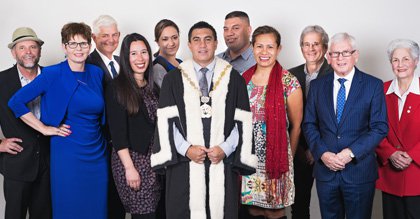 The Council will be reviewing its representation arrangements in June and is calling for community feedback now before formulating any specific proposals. 
"We're keen to hear if you think we provide fair and effective representation for you and your community," says Democratic Service Manager Lynlee Baily.
"Our city is currently represented by the Mayor and 10 Councillors who are elected from three Wards.  The Northern Ward elects four councillors, the Eastern Ward elects four councillors and the Western Ward elects two councillors."  
The Council required under the Local Electoral Act to review the city's representation arrangements every six years, says Ms Baily. 
"The representation review is an opportunity for you to identify the city's 'communities of interest', consider how best to represent these communities and ensure all parts of the city are fairly represented.
"Currently you select your Councillors from within your ward alone but they can also be elected from across the city at large, or from a mixture of both." 
Adopting a ward based system may mean that elected members come from all parts of the city however the "at large" option would give you a wider choice of candidates to vote for. 
A mixed system, where some Councillors are elected from wards and some from across the city, can provide a balance between representation of city-wide interests and local concerns. Some questions you may like to ponder are:
Do you agree that the current ward boundaries appropriately group communities of interest together? 

Do you agree that we have the right number of elected members to represent the interests of our city? 

Do you agree that our Councillors should continue to be elected solely from wards? If not, which of the following alternative methods of election would you prefer:
(1) Election "at large" across the city
(2) A mix of some Councillors elected from wards and some elected "at large"

Ms Baily says community boards are another option people can consider in the review.
"Community boards are elected to work at a grass-roots level in the specific 'community of interest' area that they represent. They work with their communities and report to the Council."
The Council will prepare a proposal in June that we will bring back to the community in July for formal consultation. Then the new arrangement will be in place for next year's local government elections on 12 October 2019.
The rules for payment of salaries and expenses to elected members, including community board members, are set by the Remuneration Authority.  
The salary amounts come from a remuneration "pool" that is allocated to the Council, and paid for from rates.  This pool remains the same regardless of the number of elected members because the amount set by the Remuneration Authority is not linked to the number of members the Council has.
You can find out more information on this review in our Representation Review Discussion Paper or pick up a copy from the Council administration building and city libraries. 
Please tell us what you think by 11 May 2018 and email your views to meetings@pcc.govt.nz, drop off your feedback to the Council's front counter or write to Lynlee Baily, Porirua City Council, P O Box 50218, Porirua City. 
24 Apr 2018