Extra ballot boxes popular with voters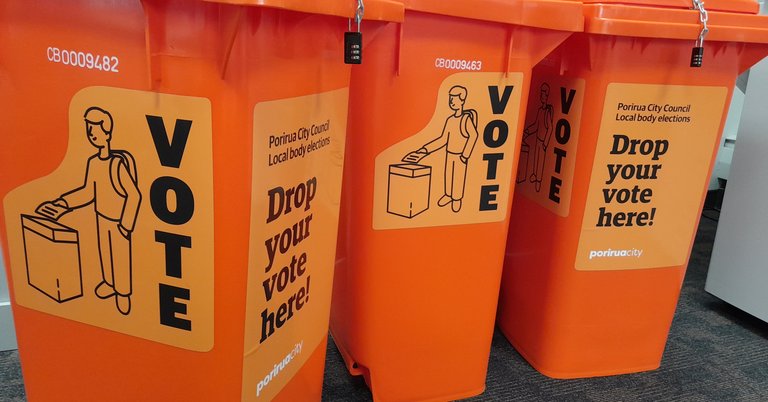 The introduction of big orange ballot boxes turned out to be a popular one in Porirua's local body election last year, with close to half of all votes being cast via ballot box.
A report to Council today included a debrief on last year's local body election in Porirua, including where residents cast their votes.
A total of 11 ballot boxes, in the form of small orange wheelie bins, were purchased prior to the 2022 election and they were available to the public to cast their votes at in the weeks leading up to election day on 8 October, as well as on the day itself.
Out of the 15,640 votes cast, 45 per cent of them were dropped in the bins, which were placed in Council buildings and many of the supermarkets across Porirua.
Council's front counter in its main admin building received the most in its orange bin (2109), but it was Countdown Porirua and Countdown Aotea which took second and third place for number of votes cast, at 1055 and 798 respectively.
Porirua Library and New World Porirua placed fourth and fifth in terms of most votes cast at the ballot boxes.
"Providing places for people to vote in areas they regularly visit, such as supermarkets, was one way we made voting more accessible for the community," says Porirua City Council Manager Democratic Services, Jack Marshall.
Ballot boxes were also made available at regular community events, such as the Waitangirua Markets, during the voting period. They were also placed at Takapūwāhia Marae, retirement villages and rest homes for a day in the final week of voting, to allow residents to easily post their votes.
Council will retain these bins so they can be used again for future elections.
"The size and colour of the bins meant they were easy for voters to spot," Jack says. "We're already exploring ways to make voting more accessible for our residents in 2025, including what other locations these ballot bins can be placed in."
Ballot box break down
Council front counter: 2109
Countdown Porirua: 1055
Countdown Aotea: 798
Porirua Library: 772
New World Porirua: 636
New World Paremata: 422
Whitby Library: 356
Pak'nSave Porirua: 322
Te Rauparaha Arena: 138
Cannons Creek Library: 180
Titahi Bay Library: 36
Pukerua Bay Library: 26 (there was a smaller ballot box at this location)
Other matters included in the report included efforts to increase voter turnout in traditionally harder to reach communities, and the introduction of a Māori ward for the first time.
Council also confirmed retaining the use of Single Transferrable Vote (STV) for the 2025 election, and the use of random order for the display of candidates' names on ballot papers.
24 Aug 2023