Final four basketball at the Arena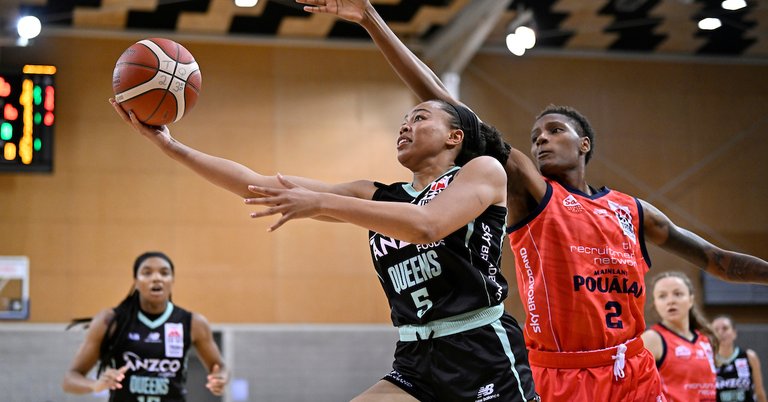 The best New Zealand women's basketball has to offer will light up Te Rauparaha Arena in the coming weeks.
The Arena, home to defending champions Tokomanawa Queens, will host the professional Tauihi Basketball Aotearoa final four playoffs on 9–10 September. The semi-finals – teams still to be determined – will be at 4pm and 6pm on 9 September, with the 3 v 4 and grand final matches taking place the next day at 3.30pm and 6pm.
Porirua's place in New Zealand as a basketball centre is well-known, and hosting the top four teams just hammers this home, the city's Mayor Anita Baker says.
"We're well-known as a city that produces basketball talent," she says.
"To have the Tauihi semi-finals and final here is fantastic for Porirua and we want to see people streaming in to see the best women players in New Zealand.
"The Arena is well set up; it's central and we're somewhere used to hosting top events. Hopefully we can get some real noise going if our Tokomanawa Queens make that top four."
The Queens sit second with five wins (as of 21 August, with two full rounds left) and have the league's top scorer Chrislyn Carr in their ranks. She is averaging more than 22 points and 7.5 rebounds per game this season.
The Queens have one more home game at the Arena – against the table-topping Northern Kāhu on Saturday, 2 September at 3pm – before the finals.
Along with the Queens and Kāhu (Auckland/Northland), the schedule also features Whai (Tauranga), Mainland Pouākai (Canterbury/Nelson) and Southern Hoiho (Otago/Southland).
The competition had its inaugural season last year and has a mix of homegrown stars and overseas talent in what is essentially a revamped national league that's aim is to make women's basketball in New Zealand stronger.
Go to tauihi.flicket.co.nz for final four tickets and keep an eye on Porirua City Council's Facebook page for the chance to win a double pass to the final.
28 Aug 2023