Flooding updates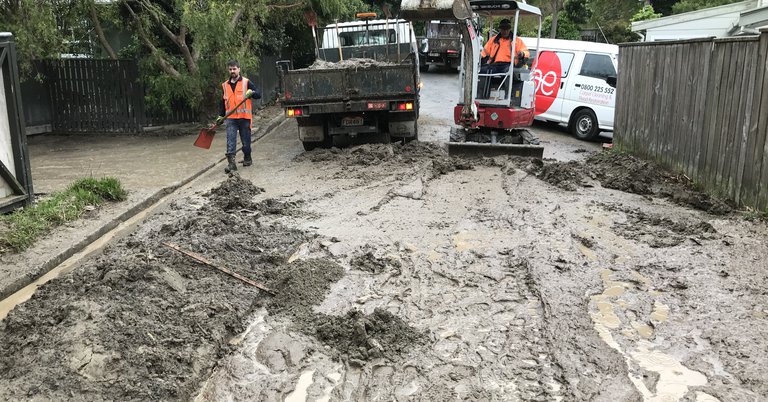 If you need assistance overnight please phone 237 5089 or in an emergency phone 111
The latest updates on the flooding in Plimmerton are here.
---
Update, 14 December 2020
Recent flooding
Since the flooding on 29 November, the Council and Wellington Water staff have been reviewing events leading up to and during the flooding to fully understand what needs to happen to mitigate the impact on residents and damage to property and infrastructure during these extreme weather events.
Before the weather hit, our staff had cleared culverts and drains and checked that the network was flowing freely. In normal conditions this would have been enough to prevent the flooding. But the intense localised rain coinciding with a king tide meant the sheer volume of water couldn't drain away.
Affected areas
Over 30 homes suffered internal damage from flood waters and 15 were evacuated. Our teams who helped clean up felt for the distressed residents who had to throw out many personal items. Plimmerton was worst hit at Karehana Park, James Street and Hongoeka. Parts of Titahi Bay and Mana were also flooded. We'll be talking with private developers and land owners and agencies like Waka Kōtahi, Greater Wellington Regional Council and NZ Rail to work together as we find solutions.
Catchment and stormwater management
During the intense rainfall, the water from the surrounding catchment found new pathways and washed down silt and debris. This soon blocked culverts and drains and also damaged property. With sea-level rise and increased weather events we're aware that we need to look more closely at our catchment and stormwater management.
Flood maps
Wellington Water has been developing hydraulic models and maps of the flooding risks in the region. You can view these maps here.
Council's main objective in producing these maps is to reduce impacts of flooding by better understanding flood events. This informs decisions around capital investment and the maintenance of our infrastructure. The Council also has a responsibility to ensure that future developments avoid flood prone areas and do not make downstream flooding risk worse. We recently notified a new Proposed District Plan which contains the most recent flood maps, as well as associated rules which seek to avoid future building in places where people and property would be at risk from flooding. You can view the Proposed District Plan here.
Our challenge
In our current work programme we've made significant investment in maintaining and renewing our wastewater infrastructure, providing for adequate supplies of drinking water and meeting commitments to environmental water quality and carbon reduction. Pressure on our budgets is not getting any easier and any investment needs to demonstrate value for money. We're working with the Mayor and Councillors now on our next Long-term Plan and we've asked Wellington Water to provide options and costings for stormwater investment in priority areas. We'll share this work with you early in the New Year. In the meantime we have asked Wellington Water to start work immediately on a catchment study for Karehana and James Street catchments.  This will join work we are undertaking in Eastern Porirua with Kāinga Ora and catchment work at Takapūwāhia.  We need to do this early planning work to understand the best solutions for long-term resolution.
But for now, we know some Plimmerton homeowners are looking at whether they can raise their homes as a safeguard for the future. Our building and resource consents teams are happy to meet with anyone considering this path. They are helpful, experienced and skilled so please feel free to call us (04 237 5089) to meet with the team
---
Update midday Tuesday (covers last night as well), including parks and sportsfields:
Fortunately, Plimmerton didn't have any major issues overnight that we're aware of. There was some rain, but nowhere close to the extent we had on Sunday. Council, Downer and Wellington Water had done lots of work in preparation for the rain, and Wellington Water had pumps at two locations on Karehana Stream which were effective.
Teams are out monitoring the area and working on some minor slips.
Skip bins are on the way to the lower parts of Airlie and Cluny roads and James Street. We'll have more information soon on exact locations. Once the bins are in place, we'll have some of our parks crew on hand this afternoon in the upper parts of Airlie and Cluny – where it's difficult for skip bin trucks to access – to provide manpower and vehicles to ferry rubbish away. These are for general rubbish only, not mud or concrete, and as space will be limited we ask them to please be used only by those who have suffered flood damage.
In Whitby there was a landslip on Moonsail Drive around 9pm which has damaged two properties. Residents were safely evacuated by Fire and Emergency from one, and the other was unoccupied.
The extent of the slip will be more clear this morning and geotechnical engineers ENGEO will be onsite. The property owners will need to go through their insurance companies to get the damage assessed.
ENGEO have also been monitoring the Airlie and Cluny Road area for slips.
A tree has fallen on Paekakariki Hill Road and the road is currently closed.
On Monday we carried out around 100 needs assessments. Thirty require non-urgent follow up and nine need urgent follow up. We're assisting one family with accommodation at this stage.
Our caravan will be back up and running from 11.30am at the Plimmerton Boating Club if anyone needs assistance or information.
Karehana Park will remain closed to the public until Friday afternoon (depending on weather). This is to ensure that we have adequate time to ensure the playground is safe, paths are cleaned and the park is dried out.
We will also be closing Karehana Scenic Reserve and walkway. The track is unsafe due to the amount of water that has come down the path and we need time to do some work to make it safe.
Sportsfields are closed for today. Users should check with their sports associations about training arrangements.
We're aware of a few fallen trees and our contractors are prioritising this work and getting on to it. If you've spotted a broken branch on a tree or fallen tree, give us a call.
Take care on our tracks and walkways. With this wild weather you may spot some loose debris or water on the track. We'll be doing a tidy up as part of our general maintenance works.
Update 10:20pm Monday - damage to Whitby properties:
There was a landslip earlier this evening on Moonsail Drive in Whitby, which has damaged two properties. Residents were safely evacuated by Fire and Emergency from one, and the other was unoccupied.
The evacuated family did not require accommodation assistance but we will follow up with them.

The properties are cordoned off and security is in place.
Flooding update 4.30pm Monday 30 November:
It's been a busy day in Plimmerton, with 20 truckloads of mud cleared and lots of preparation for the rain that is forecast for tonight, including clearing sumps and drains and checking flooding hotspots. We've also been in the area talking to affected residents.
Things to note for tonight:
Metservice has a heavy rain warning in place for this evening with the worst of it expected between 7pm and 10pm.
Wellington Water will have a number of crews in the area this evening. They have put a pump in at the culvert on Karehana Stream and another pump closer to the sea, to manage any overload that may occur with the rainfall expected.
Downer roving crews will be out from 7pm and will be monitoring Porirua and the region.
Fire and Emergency will have extra cover available in Plimmerton.
Security will again be in place at the affected properties.
Should the worst happen and people have to leave their homes tonight, please try to stay with friends or family in the first instance as there is a shortage of accommodation in Porirua.
If you do have issues please phone our contact centre on 237 5089, or in emergency dial 111.
We will be bringing in skips tomorrow after the forecast rain has moved on,to help residents with the clean-up. We'll confirm locations tomorrow.

Please stay safe everyone and don't put yourself in any dangerous situations. Just call if you need help.
---
Flooding update, 1pm Monday 30 November:

We will have teams out door-knocking in Airlie and Cluny Roads this afternoon, to talk to affected residents about how we can support them.
Please also note our caravan will be at Plimmerton Boat Club, with council staff on hand to answer queries and provide information.
We will also have a member of the Insurance Council there, to offer advice and help anyone affected by the flooding to start the claims process.
If you need a cup of tea or a bikkie, we'll have those too.
Flooding update, 12.30pm Monday:
From 2pm to 6pm we will have a caravan outside Plimmerton Boat Club, with council staff on hand to answer queries and provide information.
We will also have a member of the Insurance Council there, to offer advice and help anyone affected by the flooding to start the claims process.
If you need a cup of tea or a bikkie, we'll have those too.
---
Flooding update, 10.30am Monday 30 November:
Crews from Council, Wellington Water and Downers will be out all day today, cleaning up and assessing the needs of affected residents.
We are very aware that more rain is forecast so preparing for that will be a priority, along with the wellbeing of those affected by yesterday's flooding.
Please stay safe and don't put yourself in any dangerous situations. If you need to report an issue please contact 237 5089 or email enquiries@poriruacity.govt.nz. If there is immediate danger please phone 111.
Karehana Park will be closed until further notice for safety reasons.
As part of the clean-up effort we will be providing skip bins around the affected areas from tomorrow, once the next forecast rain has passed.
The Emergency Operations Centre was activated yesterday and is continuing to coordinate the response today. We will keep you updated as the day progresses.
---
Flooding update, Sunday 6.30pm:
The community hub at Plimmerton School will be closing at 7.30pm.
If you need emergency accommodation and haven't made contact with us yet, please phone 237 5089 or email enquiries@poriruacity.govt.nz.
We will provide more updates tomorrow morning.
---
Flooding update, Sunday 5pm:

It's been a tough day for members of our community today, with heavy rain causing flooding to parts of the city and damaging properties.
At least 15 homes in Plimmerton have been evacuated and others damaged.
Welfare assistance is available this afternoon at the community hub at Plimmerton School Hall. If your home is damaged and you can't stay with friends and family, there are people on hand at the hub to help arrange support for you.
Overnight, there will be security on site at the evacuated properties and an increased police presence in Plimmerton.
If anyone requires urgent assistance overnight please phone 111, or you can report issues to our contact centre on 237 5089 or by emailing enquiries@poriruacity.govt.nz
More rain is forecast tomorrow so crews will be out checking sumps and drains. We've worked closely today with Fire and Emergency, Downer and Wellington Water and this will continue as the clean up continues.
Stay safe everyone, and a big thanks to the community and the local volunteer fire brigade for all your help today.
---
Flooding update, Sunday 3.40pm:
From 4pm, the welfare assistance point will be moving from Plimmerton Fire Station to the community hub at Plimmerton School hall.
If you've suffered flood damage and need assistance, please go to the hub and there will be people on hand to assess your needs and provide support.
Update 1.30pm:
This morning's heavy rain and flooding has sadly damaged a number of homes in Plimmerton.
If your home is affected and you need assistance, an initial welfare point has been set up at Plimmerton Fire Station on Sunset Parade.
As there is a shortage of accommodation available in Porirua, please stay with friends or family if it's possible to do so – but there is help available if needed.
Some areas that have been flooded may be unstable and there is a risk of slips, so please avoid these areas and crews will be on site as soon as possible to make sure things are safe.
If you have suffered damage we recommend you contact your insurance company so they can help you get started with lodging a claim.
Take care out there everyone and we will keep you updated.
If you have issues to report please phone our contact centre on 237 5089 or dial 111 if there is immediate danger.
---
_________
Hi everyone - a bit more info to hand on the aftermath of this morning's rain:
- Grays Road is closed
- Plimmerton roundabout is closed, on State Highway 1
- Paekakariki Road has slips and Downer crews are working hard to try to keep the road open
- We believe around 15 houses in Plimmerton have been evacuated and Fire and Emergency have set up a control truck on Moana Road to assist that community
- Fire and Emergency, Downers and Council teams are working together to get to all affected areas as soon as possible
We'll keep you updated. Please take care out there
30 Nov 2020