Fresh look for Porirua's Aquatic Centre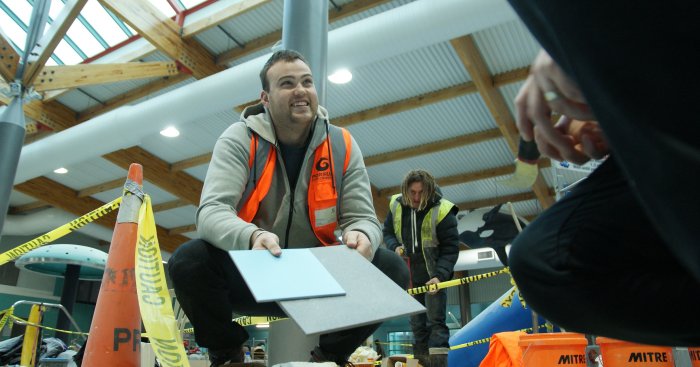 Above: Facilities Maintenance and Energy Manager Aaron Thompson checks out the new tiles that were put around the leisure pool. 
Porirua's Aquatic Centre has been upgraded to make it more welcoming and save money at the same time.
The pool reopened on Monday 14 August 2017 after being closed for three weeks as part of a regular, two-yearly programme of maintenance and improvements.
Council Recreation Manager Sue Chapman says they took the opportunity to give the pool a refresh, while also upgrading the leisure pool pumps to filter water faster and install a heating exchange unit that will save on heating bills long term.
"Any facility that is nearly 20 years old and sees more than 200,000 visitors a year is going to age, so this was a really good chance to give it a revamp and ensure it's ready to handle the next 20 years."
Customers will have noticed the difference to the way the pool looks, with new paint work, improved flooring and upgraded seating, says Ms Chapman.
The project included a refresh of the changing rooms with new paint work, new flooring and improved seating.
"We particularly wanted to focus on freshening up the changing rooms as this is often the first and last impression of the pool that our customers have."
The sauna was upgraded with new cladding and seating, with new seating also added in the steam room. The pool edging was retiled and the floor tiles were regrouted and maintained while the pools were empty.
Two new replacement pumps were installed for the leisure pool and they will increase the flow rate and push water through the filter systems faster. A new heat exchanger was also installed to improve the Aquatic Centre's energy efficiency.
"It was great to open and share the improvements with customers," says Ms Chapman.
28 Aug 2017