From your Mayor - 13 December 2022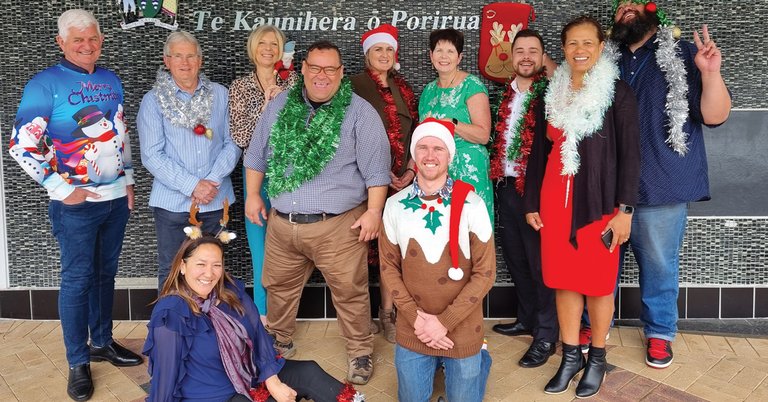 This is my final column of another busy year and, in the spirit of the season, please accept the warmest of Christmas greetings from my family to yours.
Among many other things, 2022 was a local body election year, and I'd like to thank everyone, from candidates to voters, who played their part in the work of democracy. While overall rates of participation were disappointing across the country, I'm grateful to say in Porirua we saw a robust campaign that never descended into the rancour and nastiness that affected contests elsewhere.
To my Council colleagues, past and present, I'd like to thank each of you for your collegiality and for the many ways you contribute to Council and the community. I'd also like to thank the tireless volunteers behind civic, community and ratepayer organisations who perform an essential function in a vibrant local democracy.
To Chief Executive Wendy Walker, and to all Council staff and contractors, my thanks for your professionalism and hard work over the past 12 months. The Council had a busy year with a big works programme of water and roading maintenance and upgrades, as well as extensive tree planting, that will accelerate into 2023 and beyond. Continuing questions over the precise direction of the Government's Three Waters plan, along with impending local body reforms, make this a difficult and uncertain time, but I have every confidence in the city's readiness to adapt to this quickly evolving environment.
I'd also like pay tribute to colleagues across Wellington, like Greater Wellington Chair Daran Ponter, mayors Campbell Barry (Hutt City), Wayne Guppy (Upper Hutt) and the freshly elected Tory Whanau (Wellington) and Janet Holborow (Kāpiti), for the constructive and collaborative way they engage on major regional challenges.
Over the past year, one of the highlights has been to see so many new businesses make Porirua their home. Some, like Fame Hair & Beauty in North City Plaza, whose owners relocated from Wellington closer to their Whitby home, are benefiting from the post-pandemic trend of Porirua residents spending more time and money locally.
Others, like Panikeke, a Pacific Shop with beauty, clothes and lots more in Cobham Court, are seizing new opportunities on offer from our young, diverse and upwardly mobile population. Porirua is Panikeke's first foray outside Auckland after its dynamic founders launched the business out of Otara in 2016.
Meanwhile, Porirua Espresso – on Semple St, located inside the Sthil shop – is the latest new entrant in what is truly now a bustling cafe scene in the CBD and right throughout our suburbs.
The city also welcomed this year a new Creative & Performing Arts Academy – Malaga SA – that seeks to nurture and showcase local talent, bringing a Pacific slant to the creation and performance of contemporary and classical music.
Along with record low unemployment, the growth in new business start-ups is on the positive side of the ledger. But the rising cost of living is a daily reminder that things are far from easy for households at the moment – and the Christmas-New Year period brings extra demands and pressures. St Anne's Pantry and others offer year-round support for families unable to make ends meet and I know they would love your support by way of donations over the Christmas period.
13 Dec 2022