Guardianship at the heart of new exhibition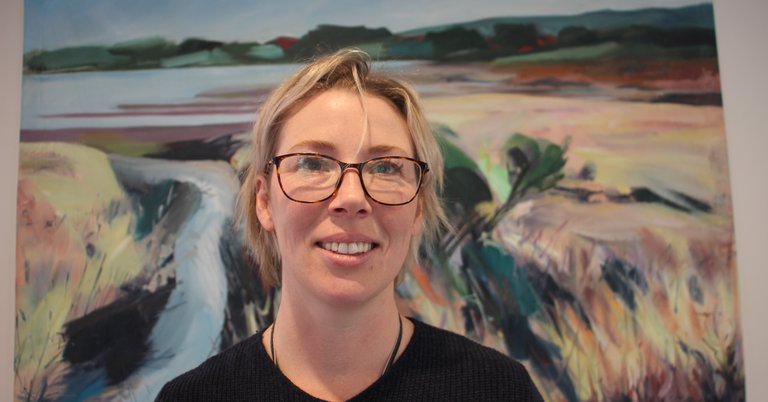 The close connection between people and nature is the subject of a new solo exhibition on now at Pātaka Art + Museum.
Essence of This Land is the latest exhibition from upcoming, two-time Friends of Pātaka Arts Awards winning painter Alicja Gear, and is on now until August 11. 
The Plimmerton artist had previously won the People's Choice Award and the Jane Hyder Painting Award at the community arts awards.
Nominations for the 2019 awards are now open.
Gear said the paintings, of locations around the Pauatahanui Inlet, represented her deep feelings about the natural world around us.
"I feel really strongly about how we look after mother earth and our relationship with her, the concept of kaitiaki and guardianship, and our role in that.
"These paintings aren't an exact representation of each place around the inlet, but rather the feelings those spaces evoke in me, in a positive way.
"When I feel a strong emotional response to something I like to capture that in my painting because I think it can evoke a strong emotional response in others, that's how I am reminding people of our connection to the land, how important it is."
Gear said that there was a "lot of me" in the paintings in the exhibition.
She said the different sizes of canvasses she had used had also allowed her to explore the main themes of the exhibition in different ways.
"The sense of scale in the artworks on display also varies quite a bit, I have done two paintings of two metres by one-and-a-half metres.
"I love painting large scale, you can do so many things on that level that you can't with a smaller work, you can get a full body movement behind the brushwork." 
Gear said basing the exhibition around the inlet was an idea that had come out of the first time she had exhibited at Pātaka, as one of the artists who was part of the Four Women Who Paint exhibition.
"For Four Women Who Paint, we all painted one patch of common ground around the inlet, that idea basically led on to the series of artworks in this exhibition."
Pātaka Curator Community Exhibitions, Emma Kitson, said the exhibition was from an artist who was going from strength to strength.
"Alicja's star continues to rise, from twice walking away as a winner at the Friends of Pātaka Art Awards to being a part of the "Four Women Who Paint" exhibition, and now this awesome solo show.
"We are delighted to support such a fantastic local artist by hosting her amazing exhibition, which reminds us all of the close relationship we have with our natural environment."
15 Jul 2019