Harbour dune and wetland takes shape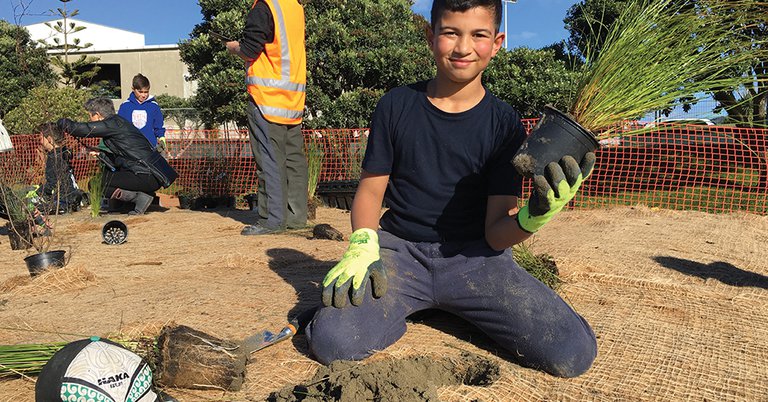 Above: Kheanu Carroll Kainuku, 11, from Ngāti Toa School helps plant the new dune and wetland area.
Porirua school children have put the finishing touches on a new dune and wetland area that will help restore and protect the health of Te Awarua-o-Porirua Harbour.
Students from Porirua and Ngāti Toa schools and Bishop Viard College helped bed in nearly a thousand native coastal plants to stabilise the newly created dune along the shoreline west of Porirua Stream Mouth.
"It's so exciting to see our rangatahi involved in this project to improve the health of our harbour," says Porirua Mayor Mike Tana.
"It is making a huge difference to the way this area looks and will ultimately help restore and protect our harbour for future generations."
The work has been done in partnership with Greater Wellington Regional Council and will create a self-sustaining ecosystem that will attract and support more native wildlife and plant life.
"This is a really important part of our Porirua Harbour and Catchment Strategy and Action Plan. It will help return the area to its more natural state of tidal sand flats and salt marshes," says Mayor Tana.
The improvements have been made along the harbour shoreline that runs parallel to Parumoana St – from the Porirua Stream Mouth, behind Pak'nSave, to the Semple St entrance, off Wi Neera Drive behind Big Save Furniture.
Rock rip rap has been placed on the foreshore around the stream mouth and at the Semple St end to stop erosion that has eaten away many metres of shoreline.
In between, a dune has been built using locally sourced coarse sand material, and the wetland area created behind it. A stream that runs into this area has been diverted through the wetland that will filter stormwater run-off before it enters the harbour.
18 Jul 2017