Hundreds of students get planting in Porirua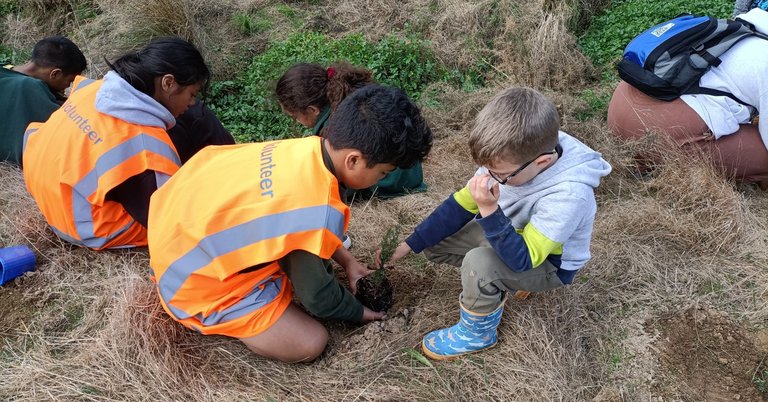 More than 600 students from Porirua and Wellington schools got involved in Porirua City's riparian planting season in Term 2.
This is through the Streamside programme run by Porirua City Council, which is set to continue once Term 3 starts in mid-July. The programme runs alongside the Council's push to plant tens of thousands of plants during the 2023 planting season.
The Streamside programme aims to educate local youth about the restoration of the city's precious waterways. Riparian plants are critical for the health of our waterways and harbour as they can maintain and improve water quality and enhance native biodiversity.
In Porirua East, groups planted riparian species along the Belmont Park stream on the Waitangirua side of the Belmont catchment.
Meanwhile, students from the Bush Sprouts/Nature School and Paremata School got busy planting in the Swampy Gully area of Battle Hill in Pāuatahanui.
"Students from all the schools have enjoyed their learning and took lifelong lessons away from their kaitiaki engagement," says Porirua City Council Manager Harbour and Resource Recovery Nigel Clarke.
"Interactions with wildlife, the mud and the odd amphibian were enjoyed by all."
When Term 3 begins, the focus will move towards Whitby. Wai-o-Hata Stream, which weaves its way through Whitby and into Te Awarua-o-Porirua/Porirua Harbour, will be planted next term.
Already groups from Aotea College, Whitby Collegiate, Discovery and Pāuatahanui schools are getting involved. Any others wanting to join in can contact: streamside.planting@poriruacity.govt.nz for more information.
29 Jun 2023