International Indigenous exhibition opens at Pātaka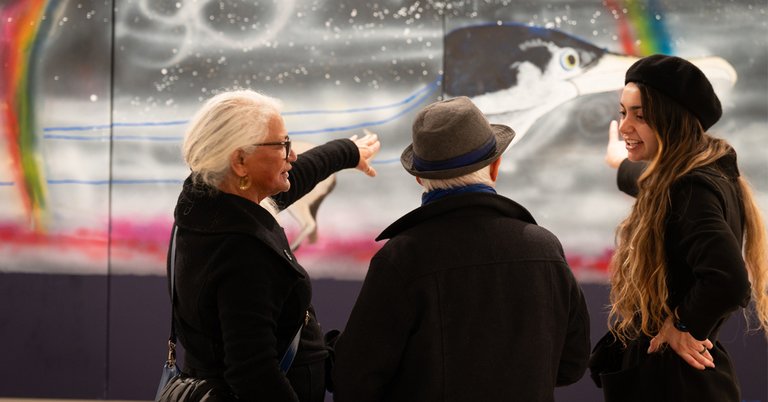 The winter exhibition season at Pātaka Art + Museum has begun, with the beautiful Naadohbii: To Draw Water opening earlier this month.
This exhibition, produced as a partnership between Museums Victoria, Winnipeg Art Gallery (WAG-Qaumajuq) and Pātaka, explores Indigenous relationships with water, and is on display until 29 October.
It brings together contemporary Indigenous artwork from Turtle Island in Canada, Aotearoa/New Zealand, and many First Peoples nations of Australia, illustrating an axis of solidarity between Indigenous peoples across the globe.
Naadohbii: To Draw Water was produced between the three nations during the height of the pandemic.
"After working on Naadohbii for the past three years – over various zoom sessions, time zones and throughout Covid – it feels like a huge reunion to be sharing these works from Aotearoa, Australia and Canada in person," says Pātaka Lead Curator and exhibition co-curator Ioana Gordon-Smith.
Naadohbii means 'to draw or seek water' in the Anishinaabemowin language of the First Peoples of Canada. A catalogue accompanies the exhibition and is for sale at Pātaka.
In the Bottle Creek Gallery the Toiora: Ki te Pō ki te Ao – The Art of Wellbeing through light and shadow exhibition embodies the concept that nature and humanity are one.
The exhibition is curated by Kohai Grace, daughter of Patricia Grace, and features works by nine artists. It is on until 13 August.
Keeping with the theme of connecting with the environment, artist Tim Li's exhibition Te Tini a Tangaroa – The multitudes of Tangaroa, is on display until 23 July in the Toi Gallery.
This exhibition encourages visitors to connect with their role as kaitiaki/guardians of our ocean and acknowledge the beauty and complexity of our marine species.
One artistic form used by Li includes Gyotaku – a traditional form of Japanese art where ink is applied to a fish and then carefully covered with rice paper to create a print of it.
For more info prior to seeing the exhibition, go to pataka.org.nz
12 Jul 2023