Join us for the last community planting day for 2023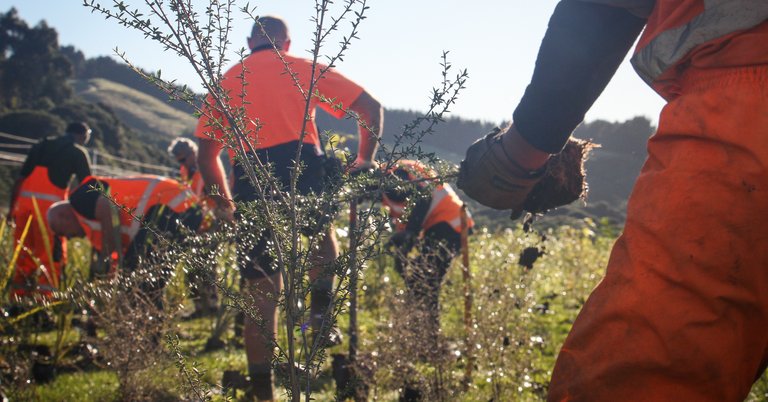 Help Porirua City Council get 100,000 plants in the ground as we reach the final stages of this year's streamside management programme.
Join us on Saturday 5 August for a day of planting native grasses and trees alongside Wai-o-Hata/Duck Creek near The Banks in Whitby, 9.30am–12.30pm, followed by a sausage sizzle for the volunteers.
These planting days are a great opportunity to connect with other members of the community while getting involved in the hard mahi to restore the mauri of Te Awarua-o-Porirua Harbour.
The 20-year streamside management programme was announced in 2022 and receives $600,000 of Government funding each year. This work is done by Council in partnership with Ngāti Toa, Greater Wellington Regional Council, schools, businesses, and volunteer and community groups.
It is hoped six million plants will go in on the banks of 588km of streams that run into Te Awarua-o-Porirua, reducing sediment, restoring habitats, and improving harbour health.
Already more than 75,000 trees have been planted both by contractors and volunteers, with the target of 110,000 plants in the ground in 2023 attainable.
The areas for planting are a mix of public sites, such as Belmont Regional Park and Battle Hill, with many others on private land.
Porirua City Council Manager, Porirua Harbour, Catchments and Resource Recovery, Nigel Clarke, says some great momentum has built this year.
"An important part of what's happening is engagement with schools, businesses, corporates and the community, where they are encouraged to look after plantings and their local streams with restoration projects. There is an enthusiasm and willingness out there for this work to succeed.
"The Council presence has been warmly received."
If you'd like to take part in the community planting day in Whitby this Saturday, please email streamside.planting@poriruacity.govt.nz with your name and the number of people attending.
31 Jul 2023