Local children to benefit from pool celebrations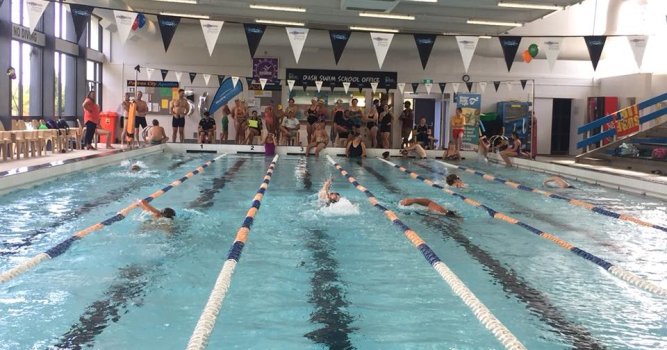 Forty one Porirua tamariki will get free swimming lessons next term, thanks to a community fundraising effort during Cannons Creek Pool's 50th birthday celebrations.

The pool, which first opened in January 1968, held a community day on 27 January to mark the 50 year milestone. This included a sponsored swim, said Business Improvement Manager Phil Waggott.
"Our goal was to raise money to fund free Learn to Swim lessons for local kids. Housing New Zealand jumped on board to partner with us and we're really pleased with the result," he said.
Thanks to the swimathon 41 children nominated by local schools will receive free lessons in Term 2.
"Of these 25 will be funded by the Housing NZ efforts with the rest coming from Coca Cola, Eagar for Leisure, MediaWorks, Surf Lifesaving and donations on the day.
"A massive thanks goes to Housing NZ for their amazing fundraising efforts for this event."
Teams were challenged to swim 5km, and five teams took part including groups from Surf Lifesaving (Titahi Bay), Arena Fitness members and a Porirua City team.
"We'd like to thank Housing NZ, Compass Health, the Police, Salvation Army, Creeksiders, Mai FM  Eagar for Leisure, MediaWorks, Coca Cola and John Ryan Plumbing for all donating time or money towards this great cause."
Mr Waggott said the pool had gone through many changes over its 50 years, but Learn to Swim classes have always been its main priority.

"That's what makes this fundraising extra special. We're stoked to be able to give vital water safety and swimming skills to 41 kids who may not otherwise be able to have lessons. These life skills will help them enjoy the water safely for years to come."

After the swimathon the pool was opened for a free afternoon of fun and celebration and a good time was had by all.

It's hoped a similar fundraiser will be held next year. 

8 Feb 2018