Many hands made light work at harbour clean-up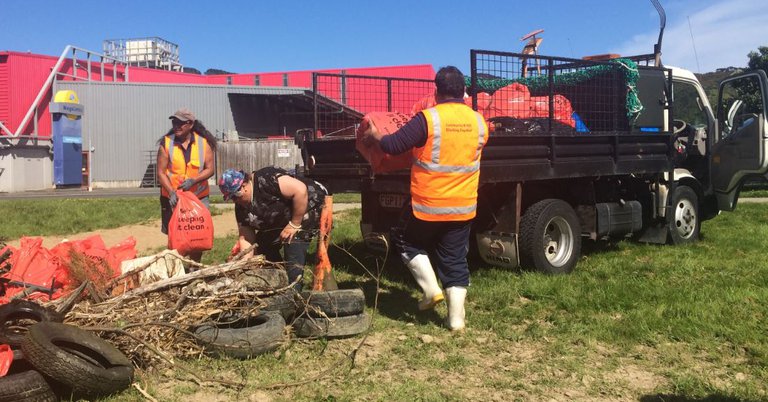 Around 150 people mucked in and helped out at last weekend's clean-up of the harbour's Onepoto Arm and they covered almost twice the area they did last year.
Sharli-Jo Solomon, who is part of the Takapuwahia Village Planning Group, has helped to organise clean-ups in and around Onepoto for more than 12 years.
She says iwi members, Latter Day Saints Helping Hands and Conservation Volunteers New Zealand joined forces to collect 560kg of waste, down from last year's figure of 1.02 tonnes (3 truck loads).  
"We do them every year on the spring tides when we can walk across the other side of the harbour. We covered the western shore of Onepoto Arm from Porirua Stream Mouth around to the coastal area of Whitireia Regional Park opposite Mana Station." 
As well as covering more ground, they collected less waste overall, pulling out 15 tyres (compared with 69 last year) and nine road cones (compared with 28 last year).
"This reduction is possibly due to people being more aware of the harbour clean-ups and the impact of dumping tyres and road cones into the harbour," she says.
The harbour is looking much better she says.
"People are more aware that the harbour is a jewel in our crown and that it is to be treasured."
Sharli-Jo said the Rongoa Appreciation class from Te Wananga O Aotearoa recently did a clean-up of the Porirua Stream. "The group, led by Sharlene Moata-Davies made a wairakau and performed waiata and karakia at the stream mouth to help keep the rubbish keep out."
Porirua City Council provides equipment, organises the safety briefings and collects and disposes of the waste from the clean-ups.
Porirua Harbour Strategy Coordinator Keith Calder says groups doing harbour clean-ups play a huge role in keeping our harbour clean, but that everyone has a part to play. "It would be good to see the ongoing shopping cart and road cone litter 'disappear'. But proper disposal of domestic and other rubbish is really important, otherwise it generally ends up in the harbour. Never a good look!", says Keith.
3 Nov 2017