More art coming to Porirua neighbourhoods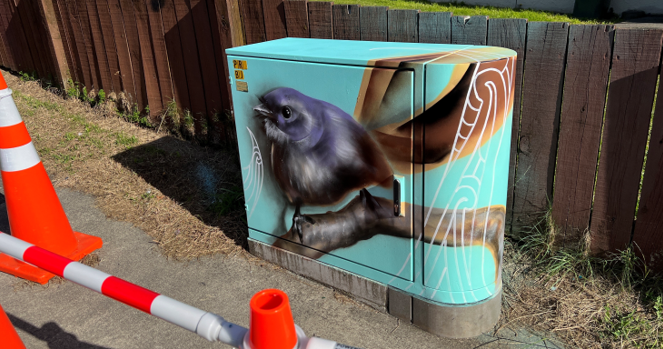 Seven more broadband cabinets in Porirua have been selected for a colourful makeover, with local artists encouraged to submit their designs.
Requests for designs for the dull green or grey cabinets in Whitby, Takapūwāhia, Plimmerton, Paremata, Aotea, Titahi Bay and the city's CBD are open till 31 August, Porirua City Council's Village Projects co-ordinator, Bill Inge, says.
"This programme is great opportunity for our community. Not only do we get fantastic artworks in our streets, but it also provides work and promotes our local artists."
Chorus Community Relations Manager Jo Seddon says that it makes sense to partner with Porirua City Council, as it has the same goal in mind when it comes to discouraging graffiti and vandalism.
"It is great to work with local councils when it comes to choosing cabinets and designs as they know what their communities need.
"We're really looking forward to seeing what artists will come up with this year."
Information about how to apply can be found on Chorus' dedicated webpage: https://www.chorus.co.nz/community/cabinet-art-programme
Existing murals can be seen here:
https://www.chorus.co.nz/blog/cabinet-art-gallery/
The winning design for each cabinet will be chosen by a Council panel from entries received.
10 Jul 2023