Navigate the work of Lisa Reihana at Pātaka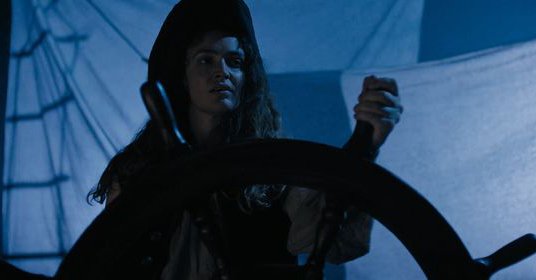 Four works from innovative multi-media artist Lisa Reihana are on display at Pātaka until 3 July in the exhibition Lisa Reihana: Nomads of the Sea.
The exhibition focuses on Reihana's distinctive use of large-scale, immersive installations and her ability to weave together numerous threads – from museums, archives and historical accounts to Māori narratives, whakapapa and Māori belief systems.
"These are four significant works by Lisa Reihana from over the last 15 years and we're delighted to have the opportunity to showcase this renowned artist, whose work includes performance art, photography, installation and moving image," says Ana Sciascia, Pātaka Art + Museum Director.
Reihana represented New Zealand at the Venice Biennale in 2017, has exhibited in the US, Canada, Italy and Holland, and she was made a Member of the NZ Order of Merit in 2018.
Sciascia says Reihana's works at Pātaka arrest the senses with a rich, cinematic experience. They consist of IHI, that tells the story of Papatūānuku and her son, Tāne; SILENT KARANGA, 2008, a work presented without sound, showing Maori singer Whirimako Black lip syncing He Taonga written to honour the Māori Battalion; TAI WHETUKI – HOUSE OF DEATH REDUX, 2015-2016, where Reihana explores Māori and Pacific practices around death and mourning; and concludes with the New Zealand premiere of TE WAI NGUNGURU – NOMADS OF THE SEA, 2019, previously exhibited in Sydney in 2020.
TE WAI NGUNGURU – NOMADS OF THE SEA, 2019 has three video channels in ultra-high definition with multi-channel audio and merges historical fact with fiction to reveal the social tensions between cultural leadership, gender roles and political survival. Please note that this work contains violence and simulated sex scenes.
Other not-to-miss exhibitions at Pātaka feature the New Zealand network of tapestry artists and the story of our local iwi:
Patricia Armour's Pleiades in the Toi Gallery gives her take on the story of Pleiades, just in time for Matariki next month. Patricia's tapestries are based loosely on the Greek myth, with a contemporary twist.
In the Bottle Creek Gallery, Woven Tapestry: Ancient Art in a Modern World has an array of individual styles of tapestry weavers throughout New Zealand on display. The artwork is contemporary, but the technique is ancient.
The iconic Whiti Te Rā, the story of Ngāti Toa Rangatira exhibition has been extended to 2024.
1 Jun 2022