New director for Pātaka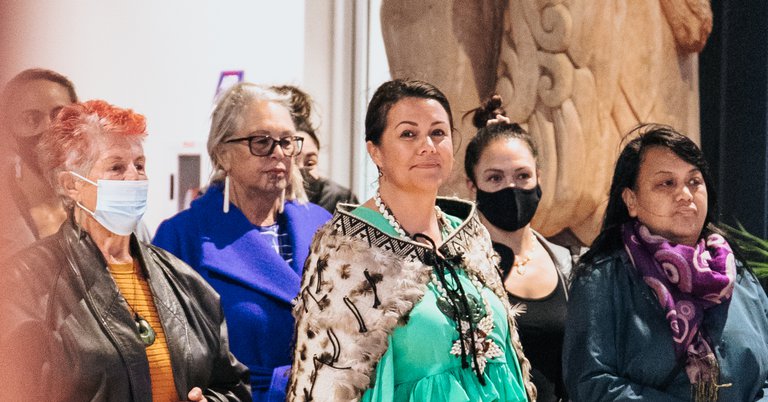 Pātaka is delighted to announce Ana Sciascia (Ngāti Kahungunu, Ngāi Tahu and Ngāti Raukawa) as its new director. Ana, who will join the team on Monday 9 May, says she's delighted to be continuing the impressive legacy of Pātaka and looks forward to bringing her own flavour and flair to the role.
"The quality of programmes at Pātaka is exceptional, I've always been an admirer. Pātaka is the creative hub for Porirua – serving our local community – as well as a lead institution for Māori, Pacific and Aotearoa/New Zealand art," Ana says. "I'm thrilled to be returning to the arts sector and working with the cultural vitality that exists in our community, especially as we celebrate the 25th anniversary of Pātaka in 2023."
Ana, who grew up in Whitby and lives in Titahi Bay, comes to Pātaka from Parliament, where she is a Senior Advisor in the Prime Minister's Office. Previously, she worked at Creative New Zealand as an International Advisor; her job was to connect high-quality New Zealand arts and artists with global markets and audiences. This took the form of touring, relationship building and collaborative projects, including cultural and artistic exchange. Ana also helped establish the First Nations Exchange Programme.
"The arts have always played an essential role in my life. It's a part of who I am; my culture, my environment, my identity. It's how I express myself to the world," Ana says.
Ana thanks Laureen Sadlier for her time as acting director of Pātaka, and acknowledges former director Reuben Friend. "Reuben has done amazing work during the six years he led Pātaka, including the first major survey exhibition for Sandy Adsett, Toi Koru which was a personal highlight," Ana says. She also acknowledges Reuben's management of the challenges brought by Covid-19 and essential strengthening work of the Pātaka building.
Ana Sciascia has a Masters in Museum and Heritage Studies from Victoria University of Wellington, where her thesis examined iwi exhibitions at Te Papa from an iwi perspective. She has a Diploma in art and Design from Te Wānanga o Raukawa.
Ana is an active member in her own hapu language and arts development, including leading and performing for Tamatea Arikinui kapa haka.
9 May 2022