New focus for Anzac Day civic ceremony in Porirua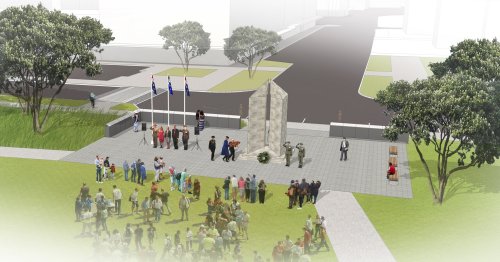 Our Peace Memorial at Te Rauparaha Park has been upgraded to give it the prominence it deserves and provide a focal point for Anzac Day commemorations in the city.
Mayor Mike Tana says we've improved the space around the memorial to strengthen its role as the city's most important commemorative space and to contribute to the city centre revitalisation project.
"More and more people are attending Anzac Day ceremonies, with our rangatahi taking a real interest in keeping the Anzac spirit alive. This memorial has more space for everyone to gather together, remember and reflect," he says.
"A new memorial wall is engraved with the names of local people who died as a result of war, including the Boer War, First and Second World Wars and the Vietnam War. 
"There is a dedication to the memory of those on all sides who fought and fell in the New Zealand Wars and who laid the foundations of our nation – and to the people lost in the New Zealand Wars and as peace givers or peace keepers," says Mayor Tana. 
The upgrade also includes new larger paved areas, lighting and seating, and two statues on either side of the memorial – one of a soldier and the other of a woman and children. The inside of the wall has small holes where poppies can be inserted.
There is also a better approach to the memorial from Hagley Street over a widened footpath and improved access, with two new pedestrian links to Te Rauparaha Arena and Norrie Street from the memorial.
The Peace Memorial upgrade is a joint project by Porirua City Council and the Returned Services Association and reflects the memorial's importance as a centre of the city's war and peace commemorations.
The Porirua City Civic Service will be held at the Peace Memorial at Te Rauparaha Park at 9am on Wednesday 25 April. All are welcome.
16 Apr 2018