New links create opportunities for Porirua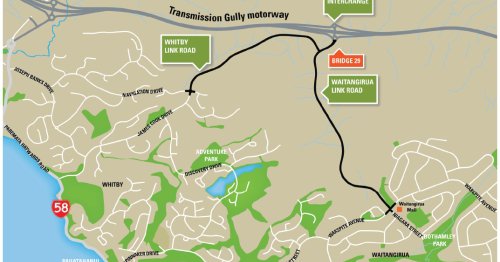 Great changes are afoot for Porirua, with the Transmission Gully Motorway (TGM) project and two new link roads set to transform the region.
Construction of Porirua City's link roads is underway, with completion of works set to coincide with the opening of the new Transmission Gully Motorway in 2020. The two new link roads – the Waitangirua Link Road and Whitby Link Road – will connect Porirua to the motorway.
The link roads will be part of the Porirua City Council's local roading network designed for a 50km/h operating speed and will be up and running when TGM opens.
TGM will pass through the rural areas to the east of Porirua and Whitby and will have connections to Porirua City's local roading network at Kenepuru Drive (near Bowland), Warspite Avenue (near Waitangirua Mall), the southern end of James Cook Drive, and State Highway 58 just east of Pāuatahanui.
The new roads will provide people with easier, faster, more reliable access from Wellington, the Hutt, Kāpiti Coast and the lower North Island. Traffic will be distributed across the network with improved traffic flows, and it'll also be easier to move around the region.
We're looking forward to having a more reliable and resilient roading system in Porirua. Earthquakes and flooding in November 2016 resulted in slips, road closures and gridlocked traffic throughout the lower North Island and showed how important having better connections is.
The link roads and TGM will also open up new areas of Porirua for residential and business growth. Regionally, we're in a great central location and we can provide a resilient cost-effective option.  
Creation of the link roads will also provide better access to Belmont Regional Park, our fantastic parks and the walking and mountain biking tracks on our doorstep.
Find out more by visiting the TGM info centre that's coming to Porirua soon. We'll announce more on Facebook!
1 Feb 2017