New Zealand's first PopUp Business School comes to Porirua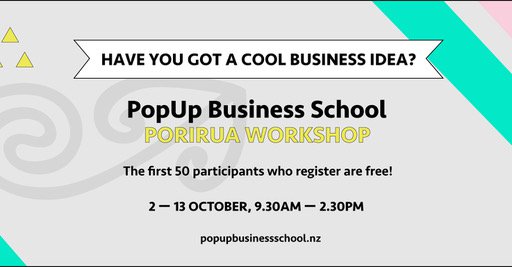 Porirua people wanting to start a business can get professional help next month when PopUp Business School comes to Porirua. The course will give you tools, confidence and knowledge to get your business up and running – and there are limited FREE places available.
It has been made possible by Porirua City Council, Wellington Region Economic Development Agency (WREDA) and Te Puni Kokiri, who together have helped bring the PopUp Business School to Porirua – the first place in New Zealand to hold the event.
The 10-day course covers how to start a business with no money, sales and marketing, building a great website, social media promotions, legal matters, dealing with customers, negotiations, and how to pitch your product or service.
City Growth and Strategic Property Manager Darryn Grant says enabling local people to start and grow businesses in the city is a win-win for all Porirua residents.
"This is an opportunity for us to trial a different approach to helping people realise their dreams and  start their own business – while ensuring they get the support they need to start and continue on with what can be a life-changing experience," says Darryn.
Porirua Mayor Mike Tana says this is another example of Porirua being a great place to do business – with agencies working together for everyone's benefit.
"It all starts right here in Porirua, which is full of passionate people who can turn a good idea they have turn into a reality. We're proud to partner with PopUp Business School Aotearoa, Te Puni Kokiri and WREDA to bring this course to our city," says Mayor Tana.
Tony Henderson-Newport of Kea Inspire, who has brought the UK concept to New Zealand shores, says PopUp Business Schools have been running in the UK for around six years and has seen many success stories.
"It's all about how to start a business with NO money, and how to have fun bringing your business to life. For many it's life changing. All people need is a good idea and the commitment to succeed," he says.
An experienced business consultant, Tony has worked with councils, development agency WREDA and Te Puni Kokiri, to enable the first PopUp Business school to be run in New Zealand.
"The Porirua course will held in Porirua from 2 to 13 October, with sessions held from 9.30am to 2.30pm each day, over 10 days. We have a limited number of free spaces on the course, so get in quickly to register your interest!"
WREDA General Manager, Business Growth and Innovation David Jones says PopUp Business School is an innovative approach to enabling business creation at a community level.
"It's about empowering people to unlock their own entrepreneurial potential. Many have the passion, drive, and desire to start a business – they just don't know where to begin. Well, they can begin at the PopUp Business School.
"We've been impressed with the results of this model in the UK, and we're excited to help establish it in Wellington. We're looking forward to meeting Porirua's new entrepreneurs and the businesses they build through this opportunity."
Mr Jones said WREDA was exploring options for PopUp Business Schools in other parts of the Wellington region.
Te Puni Kōkiri Te Tai Hauāuru Regional Manager Willis Katene says the programme is about supporting the local Porirua community to kick-start their business ideas.
"We want to engage our local Māori entrepreneurs who might not otherwise get an opportunity to learn the skills they need to start a business. The tools on offer could be a real game-changer for whānau Māori in Porirua," says Willis.
Porirua residents and people who work in Porirua can apply for a place. Go to popupbusinessschool.nz and book your place today!  
12 Sep 2017