Our vibrant city centre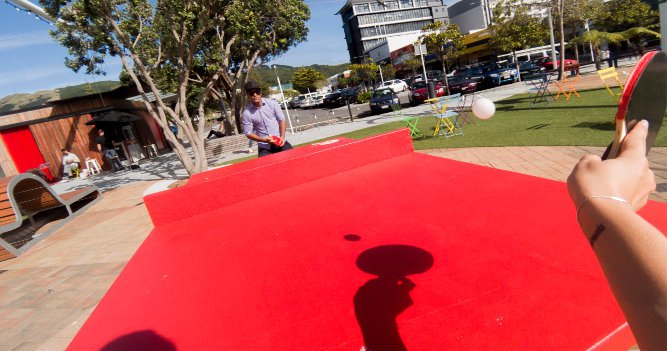 Above: People playing table tennis at Cobham Court.
Have you checked out our city centre lately? We've made good inroads in our work to revitalise the Porirua City centre and we've committed to investing $21 million over 10 years to this project. We're continuing to support local businesses by enhancing our public spaces, and we're starting to see real results.
Our award-winning Porirua food kiosk shows how well a quality venue and vendor can work together in the city. With the removal of the i-SITE building we've got a new green space that can be used by businesses and the community.
Last month we launched a new mural that celebrates Porirua City. Through public consultation during our city's 50th anniversary, we gathered suggestions from residents of iconic spaces, places and people, which have been brought to life in the mural.
Following requests from the community for a weekend market in the city centre, we're seeking organisations or an operator to manage a new high-quality market in Cobham Court.
The recent sale of the former NZ Post building for residential apartments and new commercial premises, and the agreement signed last year with The Wellington Company to build up to 18 Citiblox units mark a new phase of residential living in Porirua City.
Cobham Court will undergo some further improvements this year, removing the canopy poles and building a new children's play area. We've also had some great new high quality businesses open recently in the area, which contributes to the new buzz that's happening in the city.
The Night Markets on the last Thursday of every month, Pop-up Porirua, the Waitangi Day Festival of the Elements and Christmas in Cobham Court showed residents and visitors some of what the city centre has to offer and we're keen to get more people along to enjoy it. I invite you to come and check it out.

3 Apr 2017