Pātaka Art + Museum celebrates 25 years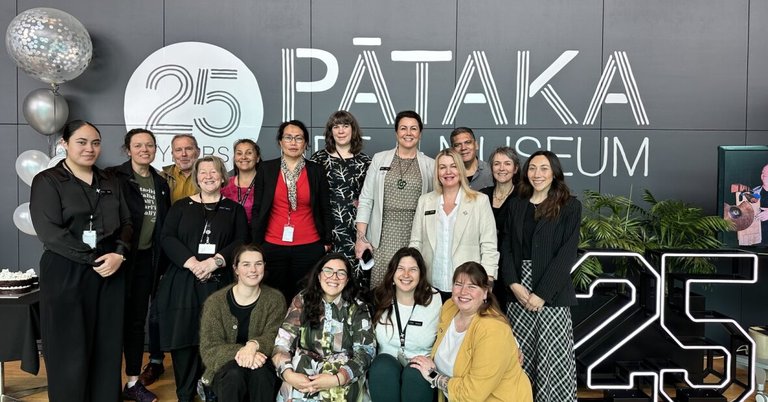 Celebrations for Pātaka Art + Museum's 25th anniversary began this week and will continue into next month with free events and the launch of a new book – Ka mua, ka muri. Looking back, moving forward: 25 years of Pātaka.
Pātaka's birthday month is being marked with live performances, a gala dinner, a haiku battle, whānau craft activities and, of course, cake.
The new book is edited by Pātaka Director Ana Sciascia and its Lead Curator Ioana Gordon-Smith. It profiles the museum's achievements over the past quarter century and looks forward to the next – continuing to champion emerging and established artists, making space for Māori and Pacfic art from Te Moana nui a Kiwa, and forging new connections both here and across the globe.
The book's title was inspired by the whakatauki 'Ka mua, ka muri', also known as 'walking backwards into the future', which Ana says suggests Pātaka should reflect and look to the past to inform and inspire its future.
"In the 25 years since Pātaka opened, the arts sector looks a little different. Māori and Moana art – a central pillar in Pātaka's exhibition and collecting history – has more visibility across art spaces in Aotearoa."
Artist Darcy Nicholas led the development of Pātaka, which was founded after the old Porirua Museum and Page90 Artspace were merged. It was officially opened in September 1998 and originally named Pātaka Museum of Arts and Culture, before being shortened to Pātaka Art + Museum.
The building's design was inspired by Nicholas' visit to Porirua's sister city of Nishio in Japan, where he was impressed by how welcoming Japanese galleries were.
Pātaka now houses important taonga from Porirua's history, multiple galleries, City Centre Library, community spaces, Toi Store and Kaizen Café.
Alongside the many events, a month-long haiku competition will run throughout October, encouraging emerging and established writers to share their reflections and aspirations of Pātaka.
Visit pataka.org.nz for more event information.
26 Sep 2023