Pātaka Art+Museum launches its summer exhibitions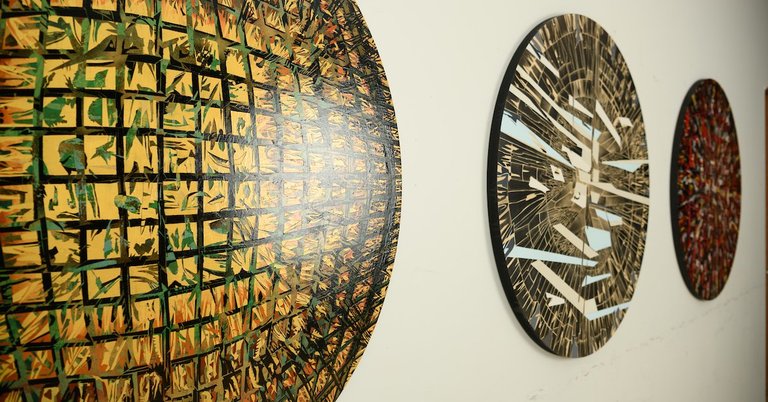 The summer exhibition season began at Pātaka Art+Museum over the weekend, with two new exhibitions opening: A'eva Tokotaha he Pasifiki: Solo across the Pacific and Tūrama - Lighting the Collection.
Both exhibitions are free of charge and are on display until 25 February 2023.
A'eva Tokotaha he Pasifiki: Solo across the Pacific spans 25 years of works by self-taught artist Glen Wolfgramm, who is of Tongan, German and Irish descent. At a glimpse, his large-scale work is physical, dynamic, fractured and architectural. On closer view, the paintings reverberate Pacific tones with an urban edge.
Tūrama - Lighting the Collection draws on works from Pātaka's art collection to examine the significance of light as a tool for artists to reflect on their place in the world. Some of the works bring light in literally, with the flick of a switch. Others use it as a metaphor, or to examine history and whakapapa. Technology connects traditional practice with new materials and techniques.
Also opening soon as part of the summer exhibition series is Student Cyanotype Print, wihch showcases student artworks based on themes found within the Te Awarua-o-Porirua: Our Harbour exhibition. This exhibition runs between 16 December-6 February 2023.
The Porirua City Library will also play host to Starting School, an exhibition created in partnership with the Northern Kāhui Ako/Community of Learning and the Pātaka Education Programme. It explores the thoughts and feelings of four- and five-year-olds about starting school and features art from early childhood education centres in North Porirua. This exhibition is on from 26 November-18 December.
To find out more about these exhibitions, visit www.pataka.org.nz
21 Nov 2022