Porirua celebrates Civic Award winners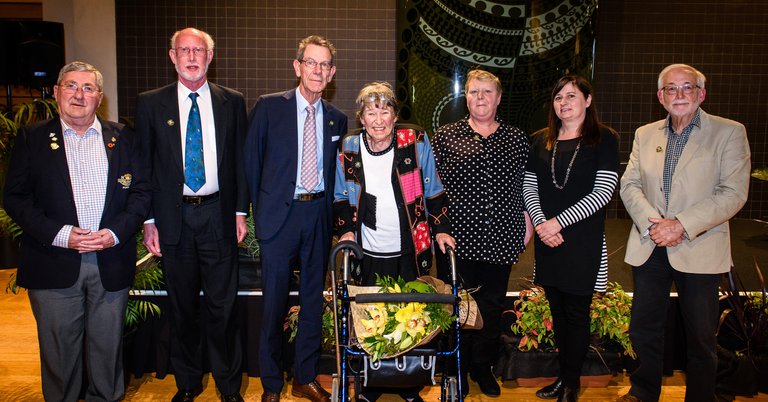 The 2019 Porirua Civic Awards were handed out at Pātaka on June 17.
Congratulations to all our worthy winners.
Chrissy Leggott was nominated because of her tireless efforts in the community who need assistance with her Chrissy's All For Free donated goods charity, which is run out of her home. From food to furniture, Chrissy puts items in the front garden of her home in Porirua East, where those in need can take whatever they need.
Geoff Mowday has been chairman of the Whitby Residents' Association for the past seven years. Getting the voice of Whitby heard has been his objective in that time and he has been successful on many levels, including on issues like the Bradey Grave site, Whitby Lakes fountain , lookout sites across the suburb, Silverwood playground and many planting days.
John Hannan is a support officer for the Returned Services Association and drives ex-servicemen and women to hospital and dental appointments and shopping excursions. He checks on their welfare regularly, day and night, and makes himself available for anyone who needs him, anytime. John also offers advice and help with Veteran's Affairs and with Work and Income New Zealand to ensure all elderly members are receiving their correct entitlements, and was involved in the recent revamp of the Peace Memorial at Te Rauparaha Park.
Dr John McKoy is a member of the Pauatahanui Inlet Community Trust, Guardians of the Pauatahanui Inlet, Friends of Mana Island, Te Awarua-o Porirua  Whatua Committee and the Friends of Taupo Swamp, to name a few! The two things that stand out about Dr McKoy is his scientific knowledge and unwavering commitment to working for the ecological health of our inlet and harbour.  He is hard-working and his background as Chief Scientist at NIWA means we benefit from his extensive knowledge, which he gives freely.
Judi Doornbos' volunteer work is extensive and she has been involved in many ventures in the community. After settling in NZ in the 1960s, she was involved in Paremata Kindergarten and Paremata Boating Club, and her other volunteer work has included Transmission Motorway Action Council and Paremata Residents' Association - the latter for the past 26 years.
Kim Murray has offered her time freely to Bellyful Porirua, Mary Potter Hospice, Wesley Fruit & Vege Co-op and WELLfed. Many people have benefited from her time, energy and expertise. WELLfed is her most impactful volunteer and civic role - Kim has worked with over 300 families to support them with newly learned skills and building connections in their own community, working alongside Rebecca Morahan.
Tony Shaw was nominated for his work as a member of Guardians of Pauatahanui Inlet since 2005, and as chairman since 2014. He has involved himself in many of the functions that the Guardians carry out in support of the inlet's ecological, historical and cultural values important to the city of Porirua. Over the years, Tony has been an integral part of the annual clean-up of the inlet and was the original organiser of the event.  He continues to do this role today.
23 Jun 2019