Porirua City and partners gear up for first community planting day of 2023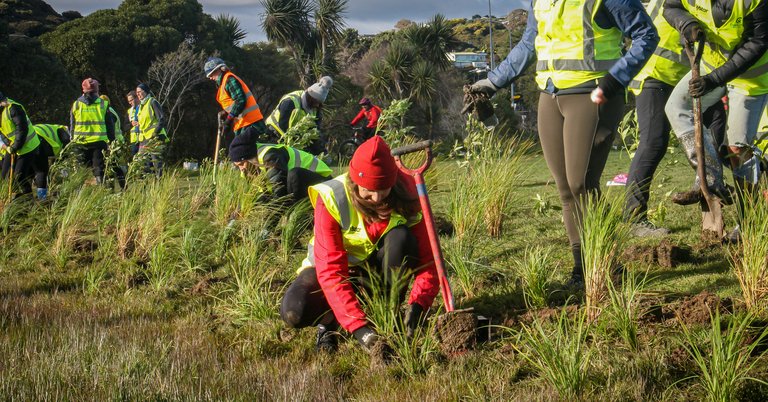 Planting season is upon us, and Porirua City Council and our programme partner Ngāti Toa Rangatira are inviting volunteers for the first community planting day of the year. This is the first of many community planting days, so please join us.
On Saturday 27 May, 10am-2pm, you are invited to help with planting in Belmont Regional Park, behind Waihora Park in Waitangirua.
"The aim of the streamside programme is to plant the banks of our streams – plants are critical for the health of our waterways and harbour as they can maintain and improve water quality and enhance native biodiversity," says Porirua Mayor Anita Baker.
"Planting days are a way our community can help with this important programme and learn more about how critical clean waterways are for our city."
About 5,000 plants will go in the ground on the community planting day. In the two weeks prior to 27 May, students from local schools will also help with planting in the same area.
Contractors will plant another 30,000 plants in the upper catchments of the Waihora Stream in June. All up, the goal is to successfully plant 50,000 plants covering 82 hectares.
This day is also supported by Greater Wellington Regional Council and local planting group Ngahere Korowai Collective.
Greater Wellington Ranger John Tesoriero says community planting days are a "fantastic opportunity to work alongside others in the community who are passionate about restoring biodiversity for our future generations".
Deanne Smylie from Ngahere Korowai says their dream is to transform the hills around Porirua East into a protected cloak of forest for the next generations.
"The people of Porirua East deserve a beautiful environment to live in, and they have the ability and passion to make it happen."
Those interested in taking part can email streamside.planting@poriruacity.govt.nz with their name and number of people attending. Keep an eye on the Porirua City website for further community planting days happening this year.
More information about our streamside planting programme can be found here.
9 May 2023