Porirua City looking out for its children and young people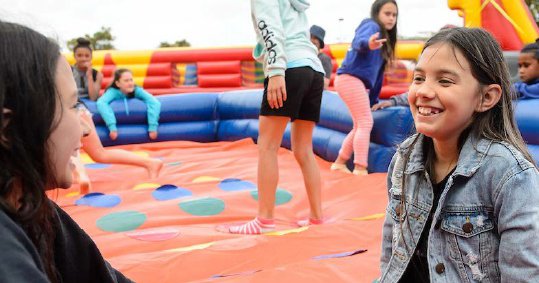 Porirua City's Status Report on children and young people is being used to help the Council better understand the needs of our tamariki and rangatahi, says Mayor Mike Tana.
This is the Council's second Status Report Children and Young People in Porirua 2018 - it was discussed at the City Direction Committee meeting today Thursday 22 February.  
"In Porirua City, people aged 25 years and under make up 40 percent of our population. That's why our Council has made the wellbeing of our children and young people a key priority," says Mayor Tana.
"The Status Report collates how well our children and young people are doing across a range of areas including education, health, employment and housing. We want all our tamariki and rangatahi to thrive in all these areas."
He says while most of our young people think Porirua is a great place to live, the report also highlights some challenges. 
"While most in our city enjoy high standards of living and homes that are spacious and warm, others do not. It's these children who are living in poverty and over-crowded homes that we are most concerned about. 
"Our job is to understand what's happening so we can make things better. We can do this by targeting local government services to young people; and working with central government."
Mayor Tana has written to Prime Minister Jacinda Ardern, Children's Minister Tracey Martin and Children's Commissioner Andrew Becroft and provided them with a copy of the report. 
"Given that this new government is focussed on children and young people this is a real opportunity for us to work together and make genuine inroads to dealing with Porirua's challenges.
City Direction Committee Chair Clr 'Ana Coffey says although many of the areas of concern for young people in Porirua are the same as those nationally, there are some local stand outs, particularly in relation to education and housing.
"We know many students in low socio economic parts of the city move from school to school or have poor school attendance. Finding affordable accommodation is a huge issue across the country. In Porirua some homes are overcrowded so even when children are attending school regularly, they can't find a quiet place to do homework and are not necessarily well rested and ready for learning when they go to school.
"These circumstances impact on our young people's future NCEA results and employment opportunities. So it's really important we work with others to start turning these scenarios around. We want all of our young people to do well and this Status Report will help us work better with our families and others to make a difference in their children's lives."
The committee also discussed the draft strategic framework for children and young people.
"While the Status Report is our annual monitoring of how well our children and young people are doing, the framework gives life to the status report and includes the voices of children. It outlines what we want to do and why," Clr Coffey says.
"We're sharing this information with government agencies so others who also have a role to play can help make positive change for our tamariki."
22 Feb 2018