Porirua's inspiring young leaders honoured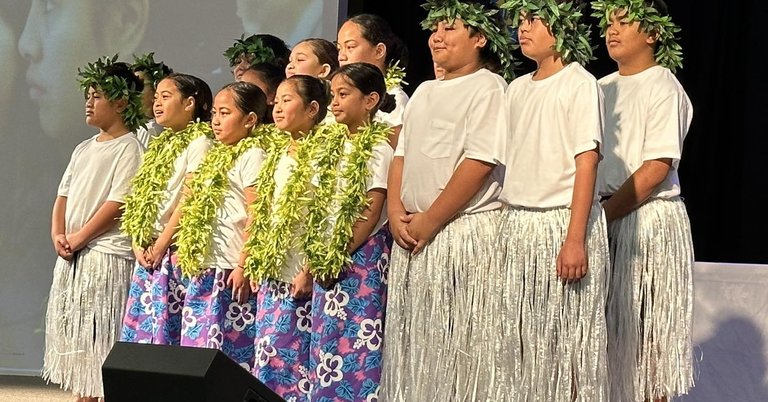 Porirua's inspiring young students were celebrated today for their outstanding leadership and service to their schools and the community.
The Rotary Clubs of Porirua, Plimmerton and Tawa, together with Porirua City Council presented Primary School Leadership Awards to 60 local school children at a ceremony at Elim Church.
"The Primary School Leadership Awards have been in place for several years and celebrate real kids doing real things in ways that demonstrate they are leaders in their places," said Rotarian Philip Reidy.
"Rotary is proud to recognise leaders of our future and the extraordinary things that they do every day."
Porirua Mayor Anita Baker, who co-presented the awards with Rotary District Governor Wayne Gordon, was impressed at the way the students lead by example to make positive change.
"Our tamariki are not just future leaders, they're leading the way right now by being such positive role models. Listening to the ways these 60 students give their time and talents to care for others is truly inspirational."
The award recipients are selected by principals from primary schools throughout Porirua. Two senior students from each school were chosen based on leadership, service above self, and being role models.
Rotarian and 2023 event organiser Colin Whyte said the events, now in their ninth year, align perfectly with Rotary's official motto, 'service above self'.
"Rotary and Porirua City Council are proud to recognise these emerging leaders of the future and their actions that make a difference to their school and local communities."
Full list of recipients below. For more information contact Colin Whyte 021 624 565 or email montrose30a@gmail.com
Adventure School - Kaylee Burrows
Adventure School - Angus McIntosh
Bishop Viard College - Miriam Siave
Bishop Viard College - Rosary Teburea
Brandon Intermediate - Kupa Lihone
Brandon Intermediate - Faaalo Williams
Cannons Creek School - Kymaniah Austin-Lapana
Cannons Creek School - Sera Vai Nuuletau
Corinna School - Chris Feaveai
Corinna School - Mailene Afamasaga Finai
Discovery School - Urban Rorason
Discovery School - Max Yarrall
Hampton Hill School - Mila Benfell
Hampton Hill School - Otis O'Carroll
Holy Family School, Porirua - Kalando Liuvaie
Holy Family School, Porirua - Faustina Anamani
Linden - Brookie Wawatai
Linden - Ayas Gangwar
Maraeroa School - Sia Gaualofa
Maraeroa School - Elizabeth Eddie
Natone Park School - Keziiyah Haua
Natone Park School - Forever Johnson
Ngati Toa - Te Ariki Law
Ngati Toa - Joshua Tutonu
Papakōwhai School - Iris Chen
Papakōwhai School - Sophie Lee
Paremata - Logan Procter
Paremata - Johanna Pokkinen
Plimmerton School - Cristen James
Plimmerton School - Maisey Suter
Porirua East School - Maia Lewis
Porirua East School - Fuarosa Williams
Porirua School - Kaipoho Taylor
Porirua School - Ruby Moka
Postgate School - Zephaniah Telea
Postgate School - Stella Luijken
Pukerua Bay - Piata Gargiulo
Pukerua Bay - Cole Harriss
Rangikura - Auavao Paulo
Rangikura - Jax Wickenden
Russell School - Poasa Faraimo-Selave
Russell School - Taufa Tuangalu
St Pius X, Titahi Bay - Dallas-Milz Seu
St Theresa's Catholic School - Mila Robinson
St Theresa's Catholic School - Isaac Duncan
Tawa School - Emma Smart-Balwin
Tawa School - Olivia Brookes
Te Kura Maori o Porirua - Liam Neal
Te Kura Maori o Porirua - Dayle De Har
Titahi Bay Intermediate - Cassidy Misky
Titahi Bay Intermediate - Gia-Jodi Bishop
Titahi Bay North School - Elliot Kerr
Titahi Bay North School - Aliviah Rauhihi
Titahi Bay School - Caelyn Faalua
Titahi Bay School - Mason Hutchinson
Wellington SDA School - Lorsnia Ah Kau
Wellington SDA School - Mianté Visser
Whitby Collegiate - Gabriel Anthony
Whitby Collegiate - Caleb Whelan
Windley School - Rori Pemberton-Higgs
Windley School - Manaaki Sangcap
7 Aug 2023