Residents to have their say on how Porirua dogs are managed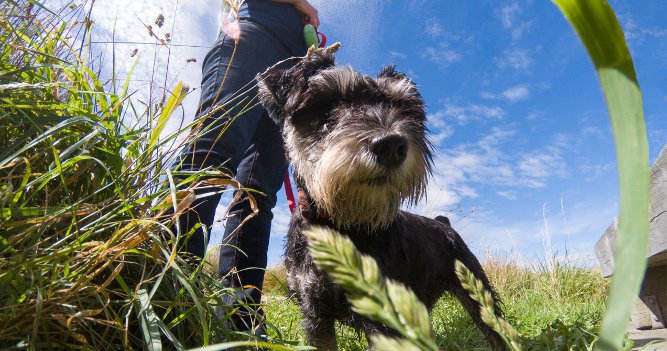 Above: dog walker.
The rules around how we manage Porirua dogs are being reviewed and we're asking residents what they think of the proposed changes.
At the same time, we'll be asking whether Porirua needs a fenced dog park.
The City Delivery Committee today accepted a recommendation to consult on the review of Porirua's Dog Control Policy and Bylaw and also to seek feedback on the concept of a fenced dog park or exercise area. Consultation will begin on Friday 16 June and end on Friday 14 July.
"We recognise the great benefit of dog ownership to their owners and we want to ensure dogs are enjoyed, managed and controlled so all residents can safely enjoy our City," says City Delivery Committee Chair Councillor Anita Baker.
"We believe these changes will help us achieve that but we look forward to hearing from residents when we go out for consultation in mid-June."
The changes proposed to Porirua's Dog Control Policy and Dog Control Bylaw include:
adding six new off-leash dog exercise areas
extending by one month the time dogs are allowed on city beaches
changes to some existing exercise areas
compulsory neutering of dogs classified as menacing by breed/type
making it easier to obtain and keep 'responsible dog owner status', and
incorporating the 'Pooper-Scooper' Bylaw in the Dog Control Bylaw.
"We decided to consult on the mandatory neutering of all dogs classified as menacing because the Government is proposing to introduce stronger rules for owners of high-risk dogs as part of a review of the Dog Control Act 1996 later this year. It made sense for us to seek feedback on those changes now rather than require a late amendment to our policy," says Councillor Baker.
Porirua currently requires compulsory neutering of dogs classed as menacing based on their behaviour. This change would extend that to dogs classed as menacing based on breed/type.
"We also know there's a lot of interest from dog owners in having a fenced dog park or exercise area in Porirua, and this is a good opportunity to seek feedback on that too."
Residents will be asked whether Porirua should have a fenced dog park, and if yes, what facilities it should have, possible locations and how it should be funded.
An audit of signs about dogs will be carried out once the policy and bylaw have been reviewed.
Porirua has around 4,800 registered dogs. Any changes to dog fees and charges are addressed through the Annual Plan process.
1 Jun 2017