Second-hand bike programme saves 3000 bikes from landfill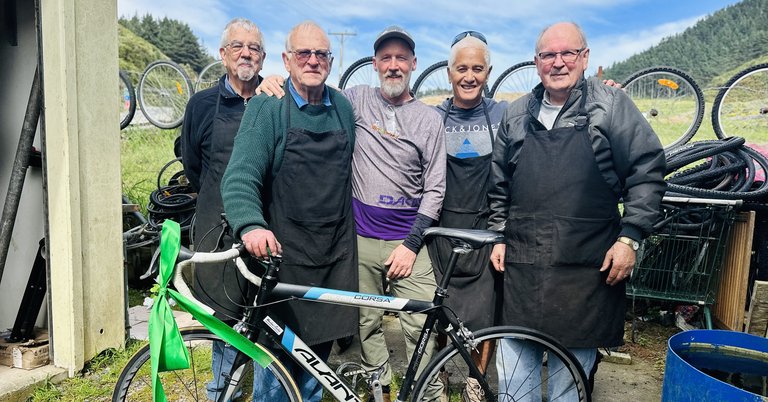 A very special bike was refurbished and made ready to be re-sold at the Porirua Green Bike Trust's workshop recently.
The Avanti Corsa, which just needed a new tyre and some love given to the gears, represented the 3000th bike that had come through the Trust's workshop – located next to Trash Palace on the hill to Spicer Landfill.
"It's quite monumental," says Green Bikes Chair John Poppleton, "knowing we can gauge how much work we've done with these kinds of figures."
The workshop was established in December 2016 after Porirua City Council agreed to provide a space for the Trust to operate next to Trash Palace.
Green Bikes aims to provide sustainable and affordable transport in the form of pre-loved and recycled bicycles.
"People on their way through to the dump can drop their items off at Trash Palace, including their used or unwanted bikes," says John.
"We do up the bikes and then drop them back to Trash Palace where they can be sold again."
Bikes turn up in all different states. Those that can't be refurbished are stripped for parts, and any unusable bits are sent to Macaulay Metals where they are shredded and recycled.
John says they usually send away about four skip bins full of bikes for recycling each year.
The workshop is run by volunteers, and up to seven of them can be on-site during the day every Friday putting in the hard work. All bikes that can be re-sold are checked for safety and roadworthiness before they are wheeled out of the workshop.
John says they usually process about seven bikes a week. Given Trash Palace receives about 100 bikes a week, they've got plenty to get through.
He says their relationship with Trash Palace works well, as the store is open every day so bikes can be sold even when the workshop is closed.
Over the years refurbished bikes have also been given to people with none of their own transportation or who don't have the funds for a new bike. John says they have also partnered with the Red Cross to help provide bikes to new refugee families arriving in Porirua.
The Porirua Green Bike Trust workshop is located at 20 Broken Hill Road. Visit their website for more information about what they do.
4 Oct 2023