Streamside planting off to a flyer, with many hands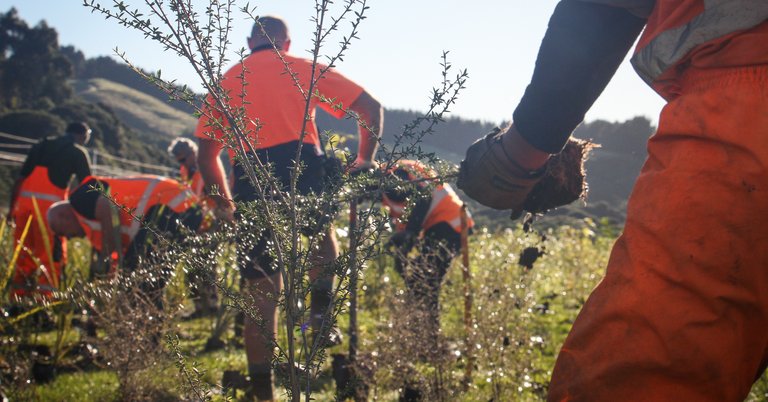 It's full steam ahead for Porirua City Council's streamside management programme, on track to put more than 100,000 plants in the ground in its second year.
The 20-year programme was announced last year and receives $600,000 of Government funding per year. Council oversees the placing of appropriate plants in the catchment areas and alongside our streams with support from Greater Wellington Regional Council, Ngāti Toa, schools, businesses, and volunteer and community volunteers.
It is hoped six million plants will go in on the banks of 588km of streams that run into Te Awarua-o-Porirua Harbour, reducing sediment, restoring habitats and improving harbour health.
Some of the areas for planting include public sites like Belmont Regional Park and Council land, but 16 identified are on private land.
At Thursday's Te Puna Kōrero meeting of Porirua City Council, Manager Porirua Harbour, Catchments and Resource Recovery, Nigel Clarke, told councillors and Mayor Anita Baker that it has been a successful 2023 planting season.
Highlights include:
- 75,000 trees planted by contractors and on community planting days, with the target of 110,000 this year attainable
- 18 schools and more than 800 students actively involved in the planting programme
- 8 hectares of wetland restored
- 577 hectares of pest control carried out and 179 hectares of weed control carried out
- 10 farms on board
- 6km of fencing put in place
- A full team to run the programme in place – a manager, operations manager, community advisor and schools co-ordinator – along with six people through Jobs for Nature each year.
Mr Clarke says they will endeavour to keep the momentum going.
"It's been exciting for our team, getting to grips with new contractors and landowners, we've certainly achieved a lot. We are forming good relationships out there with all sectors involved in this programme.
"An important part of what's happening is engagement with schools, businesses, corporates and the community, where they are encouraged to look after plantings and their local streams with restoration projects. There is an enthusiasm and willingness out there for this work to succeed.
"The Council presence has been warmly received."
Email streamside.planting@poriruacity.govt.nz to find out more information and be updated on when the next planting day is to take place.
6 Jul 2023