Students' stunning murals celebrate their environment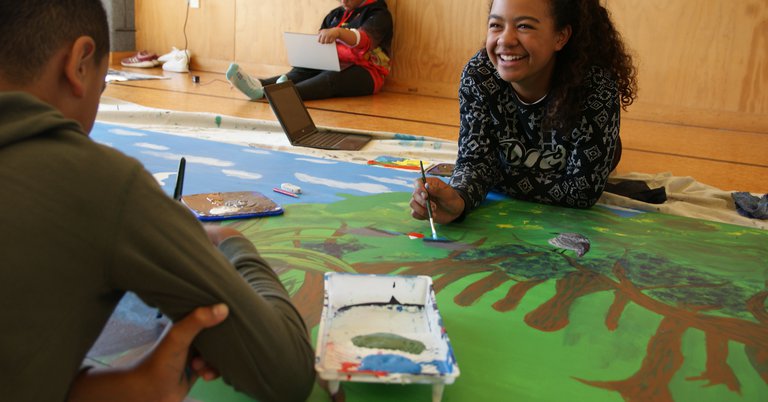 A group of tamariki from Rangikura School in Ascot Park have created two beautiful murals as part of Porirua's Tag Free Kiwi programme aimed at discouraging graffiti vandalism.
 The murals, based on scenes of Mana Island, will go up at the school, which has spectacular views of the island.
 "The kids have spent the last term studying the island; its environment and wildlife, designing the murals, sketching the images and then painting them. It's been a lot of work but the end result is looking fantastic," says artist Emily Boonen who lead the programme.
 "It's a lovely project and the kids get so much out of it," she says. "They then feel good about their environment and look after it."
 Porirua City Graffiti Management Co-ordinator Richard Witheford-Smith says each term the Council funds a school to be involved with the Tag Free Kiwi programme and over the years many schools in the city have been involved.
 "It's a great project for encouraging our community to respect and appreciate the beauty of our city, and to then look after it."
 As part of the project, local artist Antz was commissioned to paint the bus stop outside the school with images of the animals that can be found on the island.  And next year members of the group involved hope to visit the island to see it first-hand.
 "It's a great project for encouraging our community to respect their neighbourhood and then they want to look after it," particularly keeping it free from litter and tagging," he says.
Pictured above: Tiare Ona (11) works with Mikaio Ah Chong-Hosking (11) on the Mana Island day time scene, while Kisaya Perez researches her image.
14 Dec 2017