Successful planting season wraps up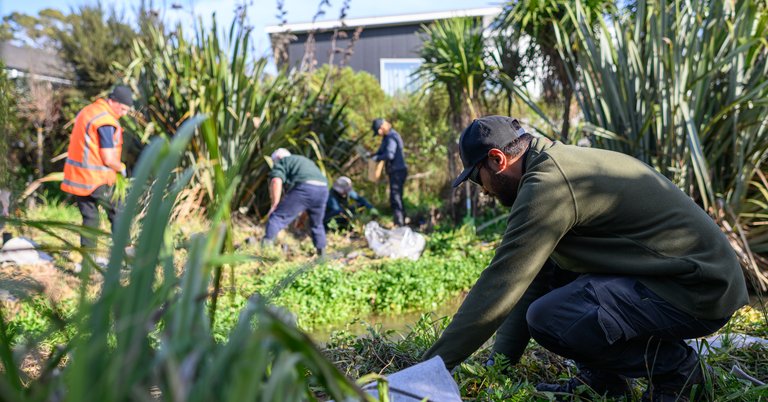 Porirua City Council's 2023 planting season wrapped up recently, with almost 110,000 more plants in the ground.
Running between May and September, the number of plants in the ground was made possible due to connections with rural landowners, Ngāti Toa, volunteers, community groups, schools, and regional groups and organisations.
The planting work this year is part of Council's Te Awarua-o-Porirua Streamside Planting programme, which launched in April 2022.
The programme aims to plant along the 292 kilometres of stream in Porirua over sixteen years to help slow the seep of sediment and pollutants into our waterways and harbour, which impairs the biological and ecological health of these areas.
Since this work started, more than 202,000 plants have gone in the ground across about 25 hectares of land. The goal is to have more than 600,000 plants in the ground by June 2026.
"We are thankful for everyone who took part in planting this year, from the school groups to the rural landowners, there's a role everyone can play in ensuring the future health of our waterways," says Council Manager Porirua Harbour, Catchments and Resource Recovery, Nigel Clarke.
"An important part of what's happening is engagement with all these groups, where they are encouraged to look after plantings and their local streams with restoration projects. There is an enthusiasm and willingness out there for this work to succeed."
In the 2023 planting season alone we had:
125 volunteers attend our three community planting events
27 schools and more than 1000 students engage with planting, litter clean ups, water quality monitoring, and wetland and catchment education
Four corporate groups involved in streamside and harbourside planting and litter clean-ups
More than 55,000 plants planted on private property.
Plans are now underway for the 2024 planting season, including the availability of funding to support rural landowners to plant waterways to reduce sediment run off from their properties. For more information, check out: poriruacity.govt.nz/streamside-planting
21 Nov 2023