Summer finish for former duck pond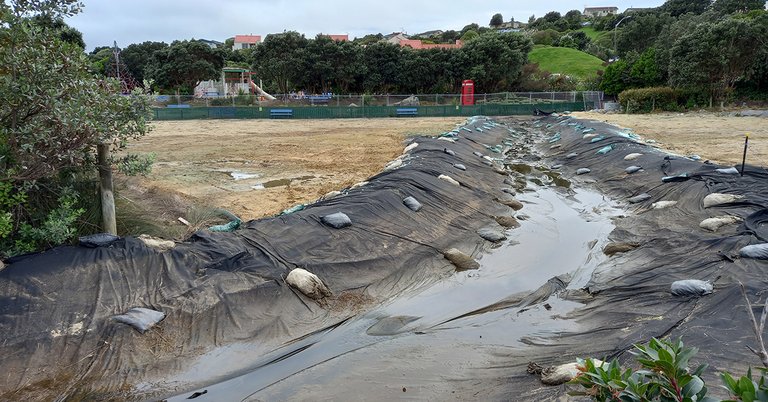 Work will continue shortly at the former duck pond in Aotea Lagoon, with the site expected to be open to the public later this summer.
Despite heavy rain in July and August, Porirua Parks & City Services Operations Manager Mark Hammond says the project has been faring well in the (mostly) spring sunshine.
"Our contractors did need to take some pauses from their work due to horrendous weather over winter, but it's coming along well now," he says.
"This is going to enhance the area at the lagoon, with the splash pad nearby, as we look forward to those summer months. It's been a while coming but we're excited for visitors to one of Porirua's most popular spots."
In February and March, the water level was lowered and more than 500 fish (including 25 longfin eels that are a declining species) were removed and placed in local streams, before the pond's sludge was dredged.
In May and June, rocks were placed in the base of the duck pond, and in July fill was cut from the embankment above Porirua Park to create a temporary stream channel. The fill material was left to dry in spring and will likely be firm enough for landscaping to occur before Christmas.
Mr Hammond says the Lions' miniature rail will run again once the stream channel is finished, but the public will not have access to the lawn area while the grass is establishing.
"We've appreciated the public's interest, and patience, as this project was carried out and we know that the end result is going to be worth it."
Additionally, plans are continuing to be prepared that will enhance the visitor experience and water quality at the entire Aotea Lagoon precinct. The Aotea Lagoon Concept Plan sought public feedback in 2020, has been set a budget for the coming three years, and the community are likely to see detailed design plans in 2023, following consultation with mana whenua Ngāti Toa.
1 Nov 2022