Virtuoso Strings Charitable Trust wins Supreme Award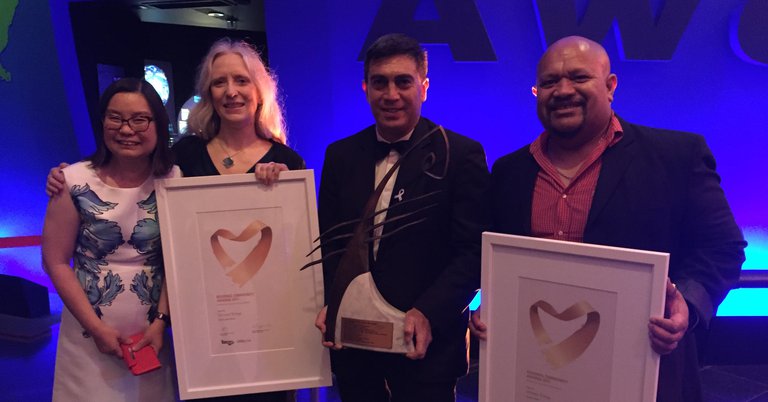 Porirua City congratulates Virtuoso Strings Charitable Trust, who took out the Supreme Award and also won the Arts and Culture category at the Wellington Airport Regional Community Awards last night.
The Trust provides free instruments and free tuition to students in low decile schools in Porirua and runs Virtuoso Strings Orchestra, which rehearses each week in Cannons Creek and performs at events across the city and region.  
Dr Elizabeth Sneyd, Craig Utting and other Trust volunteers have worked tirelessly behind the scenes, giving their time teaching violin, cello and viola to more than 160 children in low decile schools since the establishment of Virtuoso Strings Trust in 2013.
Mayor Mike Tana, who attended the awards ceremony last night, said the Supreme Award reflects the effect that the Trust has had by bringing music to students and people in Porirua.
"The impact that Virtuoso Strings have had on our families in Porirua is life-changing – the ability to excel in a discipline and carry that through to other parts of their lives is transformational. The huge volunteer support that Liz, Craig and the other volunteers give to the amazingly talented children is helping to transform and enrich the lives of our children, families and communities."
"I've been privileged to attend events where the fabulous Porirua Strings Orchestra have been playing. They truly are magical."
"I'm so proud of Virtuoso Strings and our other amazing Porirua finalists, who have supported each other and represented Porirua so well. I'd also like to make a special shout out to Katie Daly from Marsden Whitby who, along with a Wellington student, founded Hygiene for the Homeless distributing hygiene packs to homeless women in the Wellington Region."
Liz Sneyd said that they were totally and utterly thrilled and honoured to receive this award.
"We want every volunteer and every supporter of Virtuoso Strings to know that they share in this award – from the people that help put out stands, distribute food, supervise students or taxi them around, to the musicians and mentors who are helping train the next generation, to the administrators, the organisers, as well as the numerous clubs, community organisations, churches, schools and individuals who have helped us fundraise and stepped in to fill a role when needed.
"We want you to know that Virtuoso Strings sincerely appreciates everything you do. Last but not least we want to congratulate the amazing Porirua musicians and their whanau for their commitment, hard work and self-belief. You make us all feel proud," says Dr Sneyd.
The Porirua category finalists were the Virtuoso Strings Charitable Trust, Porirua Schools Garden Club, Bodysweat Fitness, Friends of Mana Island and Te Ara Moana Trust. The Rising Star Award went to Titahi Bay Beach Festival. [Eds: more details in attached list]
Every year, Wellington International Airport, Wellington Community Trust, and the five local councils come together to recognise the work carried out by community groups in the wider Wellington region. The focus of the Awards is to celebrate volunteers for their valuable contribution to society.
Steve Sanderson, Chief Executive of Wellington Airport, said Virtuoso Strings embodied the spirit of the Regional Community Awards. "The dedicated and passionate volunteers from Virtuoso Strings are breaking down barriers, creating opportunities for the children of Porirua to learn, perform and succeed through music, and in the process, changing young lives."
 Supreme Winner Virtuoso Strings Charitable Trust will now represent the Wellington Region at the Trustpower National Community Awards early next year.
1 Nov 2017