Waitangi Day photo tells its own story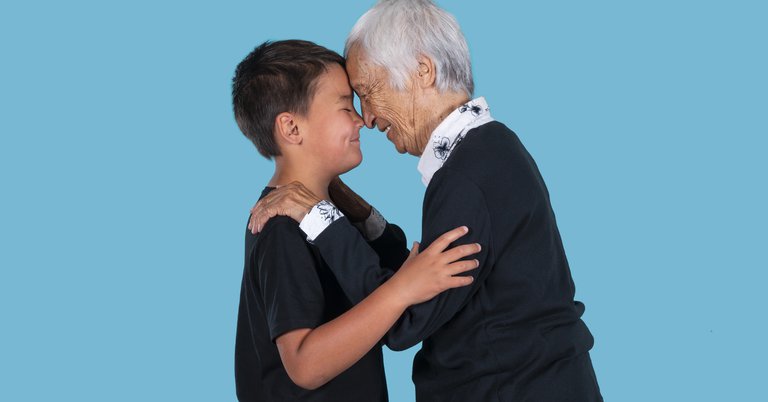 There might be 80 years between them, but the connection is as strong as it could possibly be.
Karanga Metekingi is 89 and the oldest Ngāti Toa kaumātua in the Porirua suburb of Takapūwahia. Her great-grandson, Nohoa Ropata, is 7.
Karanga, also known as Claire, is the oldest living direct descendant of the great Ngāti Toa chief Te Rauparaha, while Nohoa is the ninth generation of the chief, the creator of the haka Ka Mate, used famously by the All Blacks.
The wonderful photograph of the two engaging in a hongi is Porirua City's key promotional shot for Waitangi Day.
It captures the important link between past and present, and how traditional values can still make up much of the modern world we live in. It also shows off the important partnership that exists between Ngāti Toa and Porirua City, especially at an event like Waitangi Day.
Both Nohoa and Karanga live in Takapūwahia and enjoy regular contact with each other, as many at the pa do.
Te Rūnanga chairperson Taku Parai, who is also Porirua City's kaumātua, says Karanga is known as Aunty or Nanny to most of Takapūwahia's tamariki.
"Everyone at the pa is tight-knit – the grandkids are at their grandparents' homes all the time and everyone looks out for one another," he said.
"There is an innate closeness.
"Ngāti Toa has been here for many years and will be here for many more."
He said Nohoa is aware of his heritage and is proud of where he has come from.
Mr Parai said the relationship between Ngāti Toa and Porirua City Council is a strong – and strategic - one, which is getting stronger. This was shown recently during discussions about Waitangi Day, with Ngāti Toa excited about engaging with Council to ensure the event is successful and memorable.
Ngāti Toa contribute to Council decisions and policy work like the Long-term plan and annual plan, and consultation with Porirua's mana whenua is frequent on projects and issues.
16 Jan 2019