Warm Pacific greetings in Porirua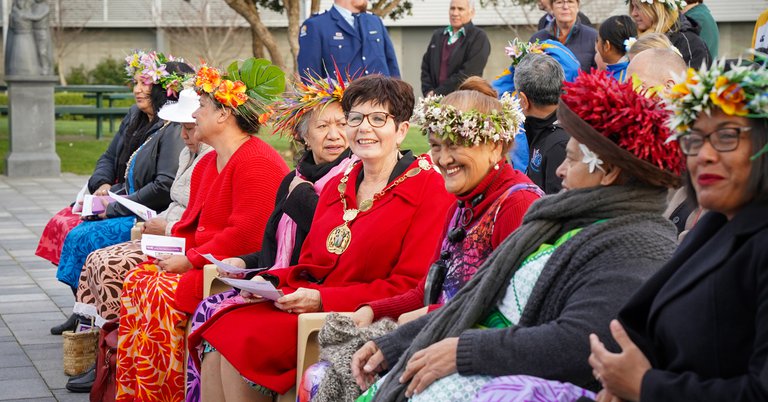 The first of nine Pacific language weeks for 2022 kicked off in Porirua last week as we celebrated Rotuman Language Week.
"We always have a flag raising event with members of the community to celebrate the launch of a language week, and for this event we filmed a member of the Rotuman community raising the flag and shared it online," says Porirua Mayor Anita Baker.
Pacific people make up 26.6 per cent of Porirua's population, which makes it one of the most culturally diverse regions in New Zealand.
"I love that every week has its own distinct flavour and elements, a true representation of the vibrancy of Porirua. We consult with our different Pacific communities beforehand to find out how they want to celebrate the launch and run their events, so no week is the same as the last," says Mayor Baker.
The overarching theme for the 2022 Pacific language weeks is sustainability, which aligns with the UNESCO Decade of Indigenous Languages to sustain and revitalise heritage languages.
During the Pacific language weeks there are several community-led activities that celebrate the languages and customs of the Pacific nations of Rotuma, Samoa, Kiribati, Cook Islands, Tonga, Tuvalu, Fiji, Niue and Tokelau.
"The language weeks are a great way to learn from each other and celebrate the diversity of languages and cultures that enrich our community – we want everyone to feel welcome and valued in Porirua and these weeks are an important way to achieve this," says Mayor Baker.
Some events will be online in 2022, please keep an eye on the Council Facebook page for updates.
The Pacific language week dates for 2022 are:
Samoa: 29 May – 4 June
Kiribati: 10 – 16 July
Cook Islands: 31 July – 6 August
Tonga: 4 – 10 September
Tuvalu: 25 September – 1 October
Fiji: 2 – 8 October
Niue: 16 – 22 October
Note that Māori Language Week starts 12 September.
16 May 2022